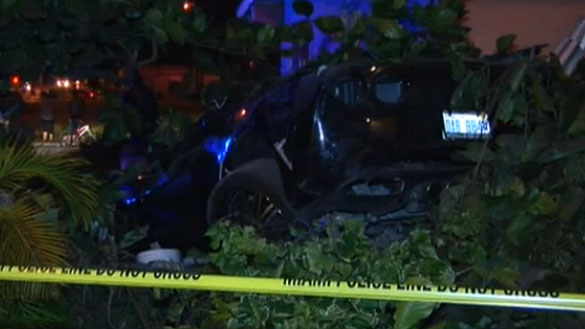 It's a bird, it's a plane, it's a… Corvette?
That's one way to describe a high-speed chase involving a stolen C4 Corvette that left the ground before slamming into the wall of a house in Miami, Fla., late Tuesday night.
Richard Campbell said his home was already being foreclosed on, and now he's not sure if it's worth anything after being hit by the Corvette. He plans to move into an apartment with his dog, just glad to be alive.
"I was very fortunate because I do believe in the supernatural spirit and he allowed me to go back there and watch a movie instead of being in the kitchen," Campbell said.
At first, after hearing the noise of the impact, Campbell was afraid the house was being swallowed by a sinkhole but soon realized a car had rammed into his house instead. In fact, a reporter for Miami's NBC6 South Florida pointed out car parts still littering the ground outside the home, and his camera showed a headlight resting on the floor inside. Campbell said he saw someone in the car after the crash, but miraculously whoever was inside apparently survived and remains on the loose.
The pursuit started in Opa-locka when undercover officers spotted the stolen car near Northwest 15th Avenue and 62nd Street. Eventually, the Corvette bounced its way over railroad tracks and went airborne before striking the house near Northwest 17th Avenue and 74th Street.
"This vehicle became airborne as it went over a little hill, the railroad tracks, and once it became airborne, coming back on to the ground, it lost total control and started spinning out of control," Miami Police spokesman Det. Willie Moreno said.
"This is amazing that the occupants inside this vehicle were able to flee on foot, and apparently didn't receive any serious injuries," Moreno said.
Police are looking for the occupant or occupants of the car and are asking anyone with information to call Miami-Dade Crime Stoppers at 305-471-TIPS.
Click here to watch the video from NBC Miami of cops on the scene following the crash as well as an interview with the homeowner.

Source:
NBC Miami

Related:
[VIDEO] C5 Corvette Pulled From a New Orleans Bayou
[ACCIDENT] Drunk Driver Takes Out a Parked Corvette and Motorcycle in Idaho
[ACCIDENT] C5 Corvette Hits a Tree in New Jersey