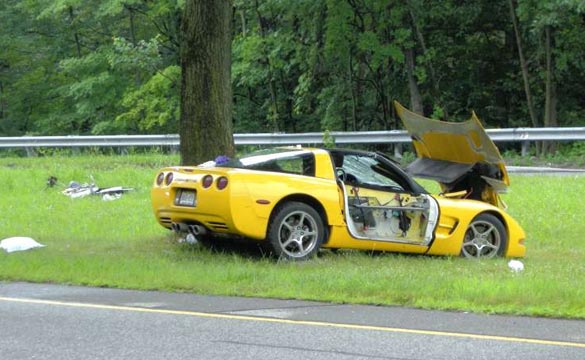 Photo Credit: Stephen Canning
A medical helicopter was used to transport a West Milford, New Jersey Corvette driver to the hospital after he crashed his yellow 2003 coupe into a tree last Thursday morning.
Anthony Venturella, 57, was believed to be on his way to work at 5:42 a.m. when the one-car crash occurred on Route 23 South near the Kinnelon border.
Lt. John Matarese said Venturella was headed south on the highway when the car left the road and went into the median.
Venturella was left in serious condition after the accident and had to be extricated from the Corvette and taken to a landing zone at Kinnelon High School, where Hackensack Air 1 picked him up and carried him to Saint Joseph's Trauma and Medical Center in Paterson.
The car suffered extensive damage, including the outer skin of the passenger door being ripped off and coming to rest a few feet from the vehicle.
Click here to view a larger picture of this Corvette accident.
West Milford police are hoping someone who witnessed the accident will come forward and tell what they saw to help explain why the accident occurred. Witnesses who were heading in either direction are asked to call the police at 973-728-2802.
The accident remains under investigation by the West Milford Police Crash Investigation Unit.

Source:
NorthJersey.com
Photo Credit: Stephen Canning
Related:
[PIC] Corvette Caught in Toronto's Flash Flood
[ACCIDENT] Corvette ZR1 Crashes After Celebratory Burnout at the Michigan Mile
[PIC] C5 Corvette Goes Up in Flames in South Beach