Nearly eight months since the 2014 Corvette Stingray was unveiled in Detroit, GM has finally got their "Build Your Own" Stingray configurator online. The Configurator allows you to set up the Stingray Coupe or the Stingray Convertible with the options and colors you want and then see the official MSRP for all the options selected.
"Honey, I need $878 a month for 72 months!"
That's the estimated monthly payment I came up with after selecting the Arctic White 2LT Corvette Stingray Coupe with Z51 and the 7-speed manual transmission, Magnetic Ride Control, NPP Performance Exhaust and then outfitting it with the optional Black Z51 wheels and red painted calipers. My final exterior item was the Carbon Flash spoiler and outside mirrors. On the inside I added the FAY Carbon Fiber Trim, Navigation system and the 3-spoke suede microfiber-wrapped steering wheel.
The Corvette Stingray configurator says my dream Corvette will cost me $66,325 so then I ran through the options of 10% cash down and financing 1.9% for 72 months to arrive at the $878 per month payment.
Since I found the configurator, I have probably outfitted three different stingrays in the last 24 hours, playing with options and colors and even maxing out one Stingray Coupe with all possible options for $79,340!
The configurator isn't quite finished though as it doesn't yet show your car virtually with the options and colors selected. The exterior shows only a silhouette while the interior does allow you to see some of the different colors inside.
If you like the new Corvette Stingray Convertible, then luckily there's an online configurator for the topless Stingray as well.
Go go head to Chevrolet.com and choose either the Stingray Coupe or the Stingray Convertible and build your dream Corvette!
And remember, once you have built your Corvette Stingray online and are ready to place your order, we recommend these dealers who are not charging more than MSRP for America's newest Sports Car. Check out Kerbeck Corvette, Mike Furman at Criswell Corvette and Sport Chevrolet. These three dealers not only support CorvetteBlogger.com as sponsors, but they are also supporting Corvette owners by selling Corvettes at MSRP.
Oh, here is a pic of that 2014 Arctic White Corvette Stingray that I'm so in love with. Someday…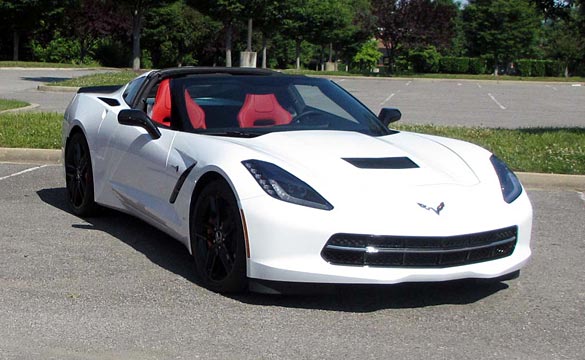 Source:
Chevrolet.com

Related:
Dealers Face Decision to Sell the 2014 Corvette Stingray at MSRP or More
Chevrolet's John Fitzpatrick Details the Production Process for the 2014 Corvette Stingray
CorvetteBlogger Drives the 2014 Corvette Stingray