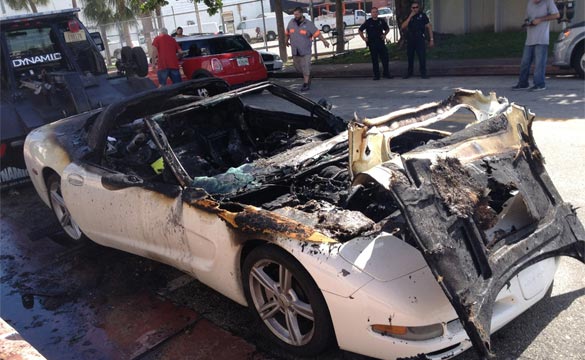 We know that Corvettes are hot cars but this is not what we had in mind!
The center of this white C5 Corvette is black now after being struck by a fire on South Beach in Miami Beach, Florida.
WSVN-TV reports that the Corvette caught on fire at 18th Street and West Avenue, and despite that the fact that the Chevy needs a lot of work now, at least no one was injured.
Click here to view a larger image of the carnage.

Source:
wsvn.com

Related:
[VIDEO] 900 HP Corvette ZR1 Belches Flames on the Dyno
[ACCIDENT] Corvette and Tahoe Drivers Flee After Fiery Crash in Los Angeles
[ACCIDENT] Corvette Burns to the Ground after Rear-Ended by a Pickup Truck