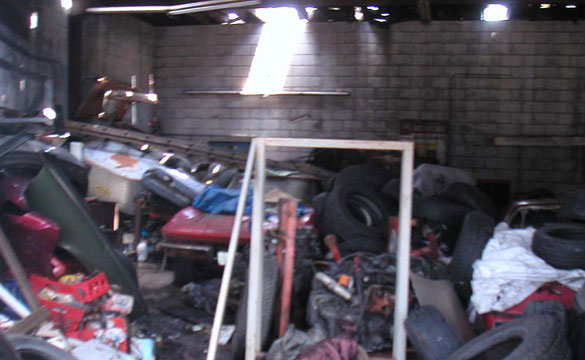 Fifty years ago, the new 1963 Corvette Sting Rays were rolling off the assembly line at the Corvette plant in St. Louis. One of those Corvettes was VIN #10863 which was a Riverside Red 360 hp Fuel Injected Corvette Roadster.
According to the story, the Corvette stayed in town where it was sold by Big Four Chevrolet in St. Louis to man who owned an auto repair business in neighboring East St.Louis, IL. The new owner ordered the Corvette while his wife was pregnant and it arrived for delivery just about the same time she gave birth to twins.
You can probably guess how the story goes from here.
Midyear Corvettes aren't the most practical cars for a new family of four, and so it was backed into a corner of his auto shop with just 31,184 miles on the odometer where it remained out of sight until 2011.
Enter Tim Thorpe from Thorpes Body and Corvette Shop in O'Fallon, IL, Around 1998, Tim had heard about an old red Corvette sitting in an abandoned garage in East St. Louis, IL. He says he would take a cruise down there when he had his Sunday's free to sneak a peek of the Corvette, but always during the day, he adds.
That's because East St. Louis, IL has changed quite a bit over the last 50 years. In its heyday, it was a hub of manufacturing and commerce, but over the last several decades, many businesses closed or moved, leaving blighted neighborhoods and abandoned buildings everywhere. Unfortunately, East St. Louis became known as one of the most dangerous cities in America.
But like any good Corvette restorer, Tim never forgot about the old red Sting Ray. While at a social gathering in 2011, he met a gentleman who was from East St. Louis and so Tim proceeded to tell the tale of the lost red Corvette. It turns out that it's a small world after all as he was talking to was the son of the man who owned the Corvette and garage!
After some stiff negotiations and few trips from O'Fallon to East St. Louis, Tim was able to purchase the Corvette.
Tim says about the Corvette, "The tires were locked, the original motor was outside of the car, and the transmission wouldn't budge. It took me and my team quite some time to get this car out of its habitat where it had been sitting for some 25 or so years."
It was a good thing that Tim found the Corvette when he did. In the pictures, you can see holes in the ceiling and the roof could have come crashing down onto the car at anytime. Just a month after the Corvette was pulled from the rubble inside the garage, the building was condemned by the city.
Thorpes Corvette shop has restored some remarkable Corvettes over his time including over 35 L88 Corvettes. In fact, right now his shop is restoring Tony DeLorenzo's 1967 L88 Corvette Racer. So you could say that tackling this 1963 Fuelie Corvette barn find was right up his alley.
The frame-off restoration took over a year to complete and judging by the "after" photos, it's amazing to believe they are the same Corvette. Tim took the Corvette back to the old garage where it sat for all those years and took some photographs in front of the shop.
The Corvette was shown at an NCRS event in Texas in 2012 where it earned a Top Flight award on its first outing despite having 100 points deducted immediately because the paint was too perfect. In his defense, Tim says "when someone pays for a resto, they want it shiny". Thorpe sold the Corvette and now it's owned by car collectors Warren Howell & Frank Gilchrist of Houston Texas.
Tim summed up the story of the 1963 Corvette Barn Find by saying "This car has wonderful history, made in St. Louis at the plant, and titled to East St. Louis, IL. This car never left a 30 mile radius of where it was originally born at the plant. It was such an honor to restore this car and be a part of some serious history, and one hell of a story!"
Tim Thorpe's Body and Corvette shop has a proven track record with plenty of Bloomington Gold and NCRS award winning restorations. Need help with your Corvette? Give Tim a call at 618-632-8080. His shop is located on west Highway 50 in O'Fallon, IL about 15 minutes from downtown St. Louis.

Source:
Thorpes Body and Corvette Shop
Related:
1963 Split-Window Corvette Barn Find Covered in 33 Years of Dust
Corvettes on eBay: 1961 Corvette is a True Barn Find
Wasting Away: 1963 Corvette Split Window Coupe