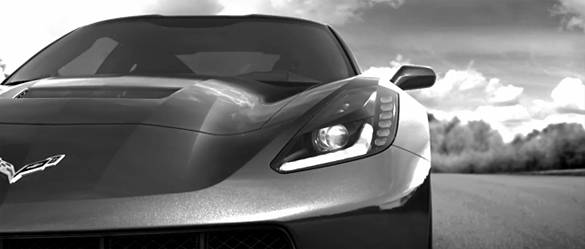 We saw this 30 second commercial last week just hours after Chevrolet uploaded it to their YouTube channel and it had garnered 300 views. If you follow us on social media, you would know that we tweeted and posted the video to our Facebook page. In nearly one week, the video has been watched over 2.6 million times. That's an amazing amount of views that shows the interest and excitement in the new Corvette.
We were really hoping that its arrival on Thursday afternoon would mean that it was scheduled to air sometime during Sunday's Super Bowl broadcast, but alas, that was not to be. And that's a shame because showing a Corvette commercial during the Super Bowl would have conveyed a "new seriousness" from GM about how it markets its halo car.
"Enemy of the Same" again features some of the scenes that made it into the pre-reveal video teasers. The commercial is filmed in Black and White and features a Black Corvette Stingray. In the opening shot there also appears to be a white Stingray in the background.
First the Corvette is shown inside and under lights much like the Corvettes go through at the very end of the assembly line in Bowling Green. The scene changes and shows a driver shifting the new 7-speed transmission while the Stingray is driven aggressively on a road course.
Chevy explains in the description of the YouTube video that the "2014 Corvette Stingray is engineered to defy convention. Designed to dismiss the ritualistic and the cliché. Created to oppose the expected, abolish empty traditions and explore the unknown."
For now, the Black and While style with quick cuts and closeup views works well and once the Corvette hits the road course, we get to hear that powerful exhaust note coming from the new 450 horsepower LT1 V8.
At the end of the spot is the new "Find New Roads" tagline that Chevrolet adopted early last month.
GM elected not to air this commercial or any others during Super Bowl Sunday, saying they wanted to spend the money elsewhere. So far we have no reports that "Enemy of the Same" has actually been shown on TV. If you've see this Stingray commercial, please let us know!

Source:
Chevrolet on YouTube

Related:
Corvette Stingray Bumped from Beyonce's Super Bowl Halftime Show
[PIC] Joe Flacco Named Super Bowl MVP and Wins a 2014 Corvette Stingray
VIDEO] Corvette AdWatch: Listen | Corvette Victory at Le Mans