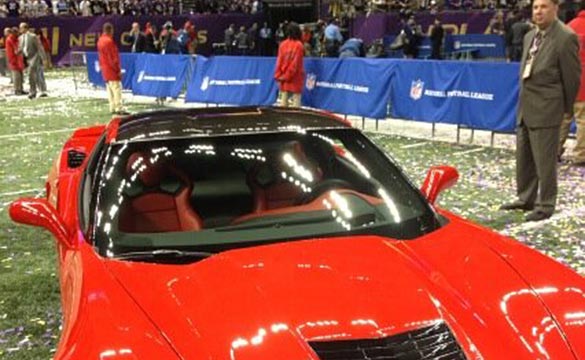 Photo Credit:
@NFL_ATL on Twitter
Remember that story about Beyonce doing the Super Bowl halftime show with the 2014 Corvette Stingray? Well, that didn't happen.
What did happen was the red 2014 Corvette Stingray was on the field during the post game celebration but it got zero coverage by CBS Sports. And despite a tweet from Corvette's John Fitzpatrick confirming it was the Red Corvette that was in the house, there has been no announcement from Chevrolet regarding the MVP award.
We did manage to catch a glimpse of the Corvette on the field using CBSsports.com's live internet feed but that was shut down nearly immediately following the trophy presentation.
Here's a tweet from the NFL showing the Corvette on the field:
This is Joe Flacco's new car. He seemed excited about it. twitter.com/NFL_ATL/status…

— NFL: AroundTheLeague (@NFL_ATL) February 4, 2013
Raven's quarterback Joe Flacco was deserving of the game's top honor, throwing for 287 yards with three touchdowns and zero interceptions.
Interestingly, there hasn't yet been an official announcement from Chevrolet regarding the MVP award at the time of this posting so we'll watch for that plus any official photos.
UPDATE
At the Super Bowl's Morning After press conference, Joe Flacco was awarded the keys to the 2014 Corvette Stingray and like Rick Hendrick who purchased VIN #001 at Barrett-Jackson, he'll have to wait until later this year to pick it up. Flacco was presented with the keys to a 2014 Chevrolet Corvette Stingray from Chevrolet Dealer Rick Flick. Flick's family has owned Banner Chevrolet New Orleans for 40 years and was the first business to reopen in New Orleans East after being wiped out by hurricane Katrina in 2005.
Here's another view of the Corvette on the field from our friend CS:

Source:
@NFL_ATL on Twitter
Official MVP Photos by AJ Mast for Chevrolet
Related:
Is Chevy Giving Beyonce a C7 Corvette during the Super Bowl Halftime Show?
NY Giant's Eli Manning Wins Super Bowl, MVP Title and a 2012 Corvette Grand Sport Centennial Edition
[VIDEO] Cardinal's World Series MVP David Freese Awarded Keys to 2012 Corvette Grand Sport