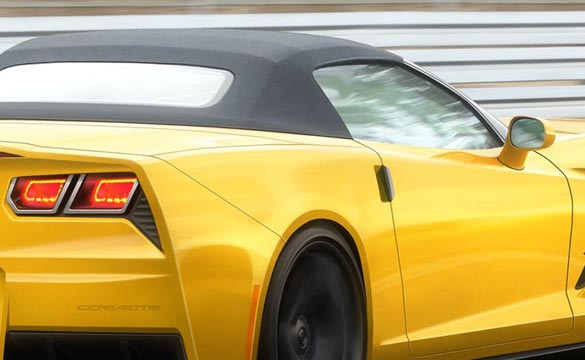 We've seen a ton of examples of the 2014 C7 Corvette in coupe form, most recently from Car and Driver. But what about the convertible model that is rumored to be available a few months after the coupe begins production? Inside Line must have heard our pleas because they just put up this rendered C7 Corvette convertible in yellow with black wheels and a black top.
There are two convertible illustrations on Inside Line which show the C7 Corvette from the 3/4 rear position and a 3/4 front action shot. The rear position gives a great look at what their designer thinks the final look of the rear will be with the much maligned "Camaroesque" taillights while the front image shows the huge front air inlet, the side gills and the hood vents.
So how do you think these look? Check out both high-res illustrations at Inside Line.

Source:
Inside Line via GM Authority.
Related:
Leaked: 2014 C7 Corvette Service Manual Page
Three New 2014 C7 Corvette Illustrations from Car and Driver Magazine
[VIDEO] Camouflaged 2014 C7 Corvette Spotted on Gran Turismo 5