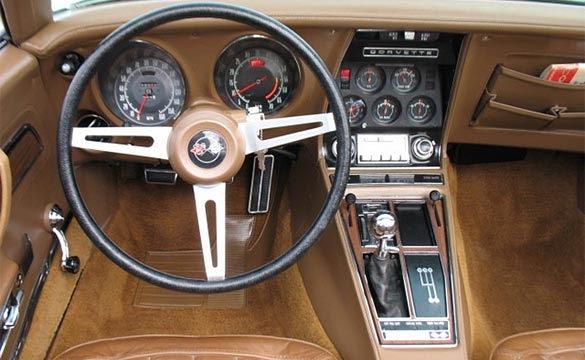 Photo courtesy of
CorvetteImages.com
Does your 1970-1972 Corvette still have the factory original carpet installed at St. Louis inside of it? If it does, then a C3 aficionado would like to hear from you. The NCRS Member is working with Al Knoch Interiors on potential improvements to their early C3 carpet patterns. Find out how you can help influence the next generation of reproduction floor coverings after the break.
Al Knoch Interiors has been producing reproduction Corvette interiors for over 40 years now. Their work has been showcased in numerous award-winning Corvette restorations.
In the past, Corvette purists subjecting their cars to NCRS or Bloomington Gold judging have been subject to minor deductions from the respective judges as the existing carpets do not 100% replicate what the factory installed. Armed with this knowledge and some initiative, NCRS member Don Lowe struck up a conversation with Al Knoch himself at Corvettes at Carlisle earlier this year. Together they've decided to do some research on original C3 carpets and, depending on the findings, Al Knoch will change their patterns accordingly to better match the nuances of the originals.
The first step in this project is research. Therefore Lowe is seeking owners of 1970-72 Corvettes, both coupes and convertibles, with known-original carpets to share what they have. As part of the information gathering he's specifically looking for photos of or samples to borrow of:
An original heel pad for 1970, '71 and '72
An original dimmer pad from a '71 or '72
Dimensions for the rear bulkhead "tabs" (behind the rear wheel wells) for 1970-72 coupes and convertibles.
Whether you've got photos or actual samples to share, we would love to hear from you. If you can assist, send Don Lowe an email at [email protected] or contact your author at [email protected]. Let us know the year of your car and whether it's a coupe or convertible. The build date or last 5 digits of the VIN would be useful as well. We'll take it from there!
Below are a few photos of the areas they're looking for more information on.

Source:
NCRS Technical Board (subscription req)
Related:
NCRS Visits Mid America Motorworks to Gather Info on 1953-55 Corvettes
My Day at a NCRS Judging Meet
NCRS Offers Historical Document Services for Classic Corvette Owners