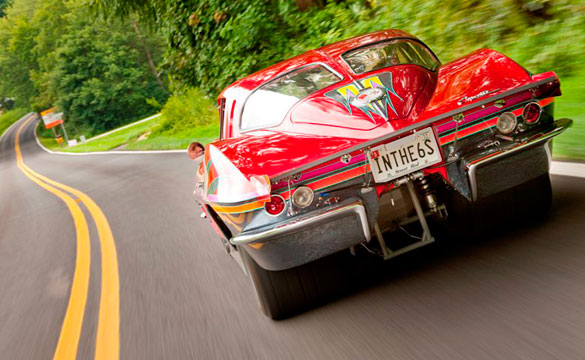 We've featured a lot of fast and powerful Corvettes here on CorvetteBlogger.com. Way back in 2009 we first told you about Rod Saboury's wicked street legal 1963 Corvette drag car. The 2,600 horsepower (no, that's not a typo) monster will run the quarter mile in a scant 6.75 seconds. That's just about how long it took the car to earn the title of the World's Fastest Street Legal Car. If you're looking for something to drive 1 kid to school, make an ice cream run, or just take a brief ¼ mile drive you're in luck as the car is currently for sale on eBay.
Rod Saboury is successful northeastern U.S. racer with 3 drag racing world championship and 8 world records to his credit.
His chariot was built over the course 5 years by starting with an $800 1963 Corvette coupe body and a vision. The body was lengthened a total of 12 inches then widened 3 inches in the rear. Underneath the body is a complete chromoly double frame rail tube chassis built to full NHRA specs. The car was originally powered by a 2,200hp twin turbo motor, but has been since replaced by a 2,600hp small block 427, with 1,700 lb-ft of torque force fed through a pair of 88mm turbos. Inside the car features power windows, working interior lights, and even cup holders.
Since it's street legal it also has working headlights, taillights and turn signals. Check out the eBay ad for a full rundown of all the unique features on this quarter mile terror. We don't have enough space here to list all of the features here.
As you'd expect this car has won countless awards at numerous shows including SEMA and Super Chevy Shows. It's been featured in multiple publications around the world including far off locations like Sweden, Australia, and South Africa.
We got see this car firsthand at Corvettes at Carlisle a few years ago. Believe us when we tell you that the pictures do not do this car justice. It's simply stunning to look at. The paint glows and the craftsmanship is superb.
As you would expect the price tag on this beast is high: $675,000. That's a pretty good return on investment for an $800 Corvette.

The auction ends on October 22nd at 5:33:39pm PDT.

Source:
eBay via Corvette Online
Related:
Information Sought on 1957 Corvette Drag Car Field Find
1963 Split-Window Corvette Barn Find Covered in 33 Years of Dust
[VIDEO] Tony Meehan's 1958 Corvette Stands as a Tribute to His Father