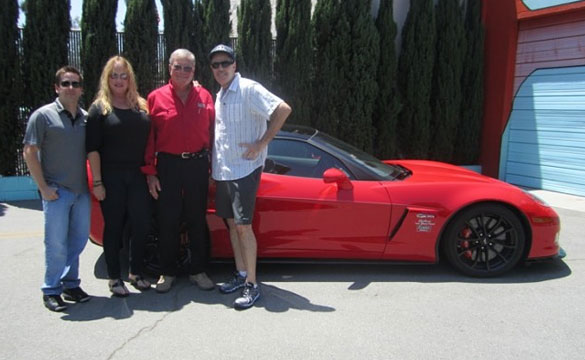 The Edelbrock name is legendary when it comes to performance.
Legendary hot rodder Vic Edelbrock and his daughter Christi recently took a few moments to talk about their supercharger for the Corvette Z06 with Adam Carolla and Matt D'Andria, hosts of the online video series CarCast. You can see their interesting conversation on this video we found.
For around $7,000 installed, a performance hound can bolt on one of these Edelbrock superchargers and instantly see an increase in horsepower of about 160 to an amazing 680-hp, Vic says.
And with that installation, which can take anywhere from one to two days, depending on whether you have to upgrade the fuel pump if you have the standard C6 motor, "you've gone from fun car to super car" with the installation, Carolla says.
Christi points out that you can buy an older C6 and upgrade it with this supercharger and be running against cars that cost twice as much.
"And you're not changing the camshaft and compression," Vic says. "It's all right there. We're very, very excited."
And when you hear the roar of that supercharged motor when Vic brings it to life and revs it up for Carolla, you'll be very, very excited, too.
The beautiful red Z06 that's featured in the video includes the carbon fiber package, the brake package, the traction package, in other words, the works. As Vic says, "you could put a number on the side door and you could go racing!"
The Edelbrock website says the Edelbrock E-Force Supercharger systems deliver excellent horsepower and torque in a complete, street-legal kit that fits under the factory hood.
The core of each system is the Eaton Gen VI 2300 TVS Supercharger rotating assembly, which features a four-lobe design with 160 degrees of twist for maximum flow, minimum temperature rise, and quiet operation for excellent drivability.
And it's even available with an optional reasonably priced powertrain warranty!
Hosted by Carolla and D'Andria, CarCast covers everything from hot rods to super cars, delivering serious expertise with a good sense of humor. Automotive designers, racers and celebrity car enthusiasts come to CarCast for a real, unscripted, lively discussion of all things on four wheels. Recent guests include Jay Leno, Vic Edelbrock, Bobby Rahal, Chip Foose, Billy Gibbons, Patrick Warburton, Zachary Levi, Patrick Dempsey, Kenny Wayne Shepherd and Bill Goldberg. The show is produced by Jeff Fox and the audio engineer is Chris Laxamana.

Source:
Adam Carolla's CarCast

Related:
Callaway Shows Off First Supercharged 60th Anniversary 2013 Corvette 427 Convertible
Lingenfelter Announces 670 Horsepower Package for LS3 Corvettes
[PICS] Purifoy's Custom 2012 Corvette Grand Sport