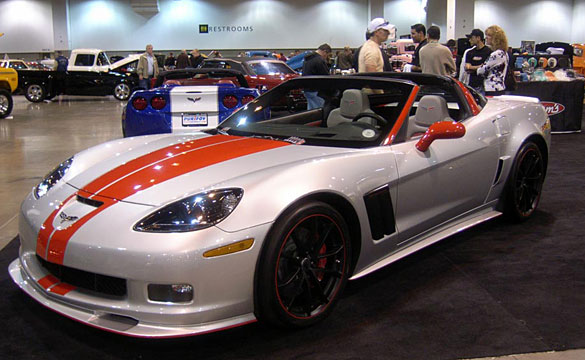 I was perusing the web late last week when I came upon this beautifully customized Corvette Grand Sport from The Corvette Guys at Purifoy Chevrolet in Fort Lupton, Colorado. Each year, Purifoy takes 3 or 4 Corvettes out of their general dealer stock and transforms them into unique, custom creations. This 2012 Grand Sport was dressed up and put on display at the Greybeard Creme de la Chrome car show at the Denver Convention Center.
As you can see from the "before" pictures, the Corvette started off as a standard Blade Silver Grand Sport. For the Greybeard show, Purifoy transformed it with custom paint, a custom interior, Centennial wheels, ground effects and custom pinstripping.
Two of the elements that really grabbed me was the painted Grand Sport vents and the subtle red pin stripping around the bottom of the car on the spoiler and rocker panels.
Now that the Greybeard Creme de la Chrome show has come and gone, this custom Corvette is now for sale and details can be had by contacting Jay Gross at Purifoy Chevrolet.
Previously, we highlighted another one of Purifoy's customizations where they took a 2010 Corvette Grand Sport, added an Edelbrock supercharger and then painted it Synergy Green with Black accents.

Source:
The Corvette Guys
Related:
SEMA 2011: The George Barris Bat Ray Corvette
Corvettes at Carlisle: GM Honors Carlisle Events on 30th Anniversary
Green with Envy: 2010 Corvette Grand Sport in Camaro Synergy Green