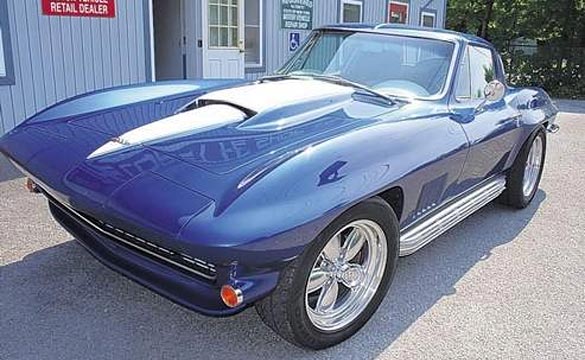 Paul Corneau of The Corvette Shop in New York has a really unique 1963 Corvette, or should we call it it a 1963-67?
He built his one-of-a-kind car with parts from three different cars, mostly 1967 body parts, though he did keep the split window from a '63.
Corneau calls it his "Mythical '67 Corvette."
He's added special touches, including quarter panels that are 2 inches wider than stock so he can fit 200s rims on the car (it's got 17/7 on the front and 17/8 on the rear).
The car is surprisingly quiet thanks to extra soundproofing material added by Corneau, but when he wants it to be loud, it can with a nifty Electronic Header Dumps system. A simple push of a button changes the exhaust sound from quiet to rumble to loud to awesome, reports Donna Kessler of the Times-Herald in Middletown, N.Y.
The custom interior features touch screen navigation and a backup camera, so that much-maligned split window doesn't cause any problems when he's backing up.
The custom Corvette also features power C5 seats from Al Knoch, along with air conditioning, power brakes, power windows, and tilt wheel, all finished off in Chrysler Deep Water Blue paint.
It all adds up to one very sharp Corvette that you don't see every day.

Source:
RecordOnline.com
Photo Credit: DONNA KESSLER/Times Herald-Record
Related:
The War on Classic Cars: Connecticut Bill Would Increase Taxes Fivefold
[POLL] What Should Be Done With This Barn Fresh 1957 Corvette?
1969 Corvette Stingray Barn Car Found in Maryland