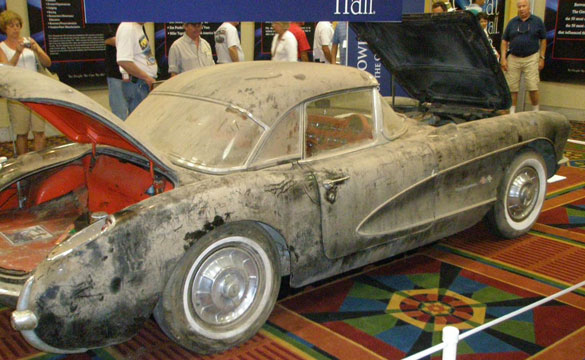 Article and photos contributed by Steve Burns
Visitors to Bloomington Gold's Great Hall this year were immediately greeted by barn fresh and very rare 1957 fuel injected Corvette recently rescued from years of storage before reaching the main display area. The car was presented with all the dirt, dust, and debris still present on it. The Bloomington Gold folks were taking a survey to learn the public's opinion on what to do with the car. To help out, take the survey after the jump and we'll forward on the results.
Loading ...
As for our opinion, We think it should just be cleaned up and used as a learning tool for restorers and enthusiasts. Let us know what you think should be done with it by leaving a comment below.

Related:
Corvettes on Craigslist: 1961 Corvette Barn Find in Atlanta
Mike Yager's 1957 Corvette Barn Find