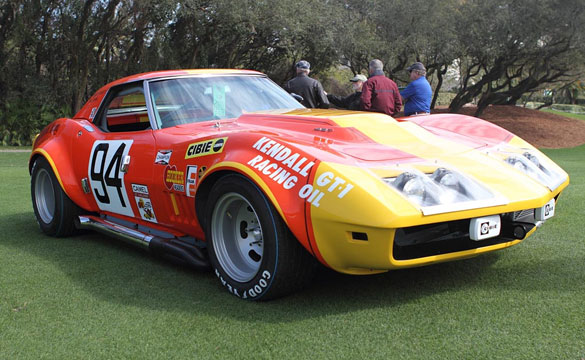 When we first published the photo gallery of Corvettes that were in attendance at the Amelia Island Concours d'Elegance in Northeast Florida, the first two pictures we shared were of the #94 Leldon Blackwell Corvette Racer. Since then, we've come across some additional information on the former Sebring race car as well as a video showing the Corvette being prepped by renowned restorer Kevin Mackay of Corvette Repair Inc.
Many of you may remember the #57 1968 L88 Corvette "Rebel" race car that was immortalized as a famous Revell 1/24 model. Leldon Blackwell served on the crew of the Rebel racer as it won the GT class at Sebring and Daytona and captured the first IMSA Championship. Leldon went on to build his own car using a damaged 1968 Corvette as his starting point and the #94 first saw action in 1972 at Mid-Ohio.
The team's success prompted Chevrolet Engineering to utilize Leldon's car to test specially built transmissions and rear-ends. The experimental transmissions were especially beneficial as they were far easier to shift over the span of a long distance race, greatly reducing driver effort and fatigue. Leldon was also proud of the fact that his car had reached a speed of 217mph during one of its Daytona outings.
Initially driven by Dan Daughtry, a NASCAR driver, #94 went on to significant accomplishments at Sebring and Daytona, driven by a group of renowned drivers including Dr. Wilbur Pickett, Bill Bean, Tony DeLorenzo, Mo Carter, and Gene Felton.
The Corvette racer is well documented with a continuous history of ownership. The current owner, John Sloane, sent the car to Kevin Mackay's shop in Valley Stream, NY for a complete restoration that returned the racer back to its original 1973 Sebring configuration. In this video, we see the 1968 Corvette getting its final cleaning and prep and then being loaded onto a transport for the ride to Florida:
Mackay and his crew did a fantastic job as usual with the restoration of the vintage racer and we are fortunate to be able to get a glimpse of all the hard work and logistics needed to bring the vintage car to a high profile show like Amelia Island.
The #94 Leldon Blackwell Corvette Racer has been written about in many books and magazines over the years. You can read more about the race car in "Corvette-Racing Legends", by Dr. Peter Gimenz and "Corvette-Portrait of a Legend", by Richard Langworth, both available at Amazon.com.

Related:
[PICS] Corvettes at Amelia Island Concours d'Elegance
Auction Results: 1969 Greenwood Stars and Stripes Corvette Sells for $580,000
Racing Legend Tony DeLorenzo to be Reunited with His 1967 L88 Corvette