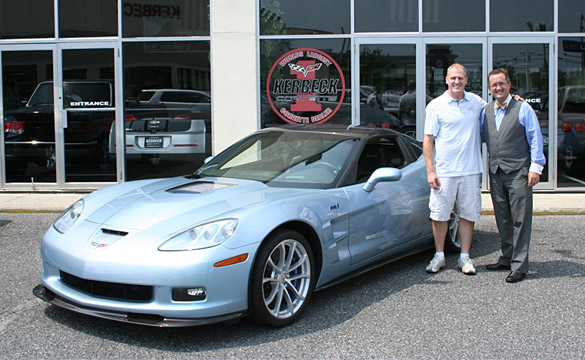 Carlisle Event's Lance Miller and family visited Kerbeck Corvette in Atlantic City NJ over the weekend to pick up their new Carlisle Blue 2012 Corvette ZR1. In addition to sporting the special color paying homage to the 30th anniversary of Corvettes at Carlisle, the ZR1 also comes equipped with the new PDE Performance Package which adds the Cup wheels, Michelin PS Cup tires, full width racing style spoiler and the MH3 Close Ratio transmission.
Lance said he wasn't 100% sure about the new Carlisle Blue color, but once he saw it in person he realized it shows the lines of the vehicle well. "Pictures don't do it justice…", Lance writes on the Corvette Forum. He added "After seeing it in person I'm really happy with our choice."
The PDE Performance Package comes with a Black cup wheels, but Lance opted for the upgrade to the Machine Face wheels. Kerbeck's Dave Salvatore also chimes regarding the new transmission calling the gear shifter "insane" and says "That is how a supercar should feel when you are shifting it!".
Attendee's to this year's Corvettes at Carlisle will be able to see Lance's new ZR1 as its the featured Corvette in the display called "The Road to Carlisle Blue". The display will feature each of the 34 shades of blue produced on Corvettes since 1953. If you have a blue Corvette and want it to be featured in this special collection, contact Jodi Morrison directly. Corvettes in the "Road to Carlisle Blue" display at Carlisle will be parked right inside the Gate 3 entrance.
If Lance Miller trusts Kerbeck Corvette for his new Corvette, then you can too. If you're interested in a new 2012 Corvette, talk to one of Kerbeck's Corvette Specialists about a custom order to meet your specifications. Visit Kerbeck Corvette on the web at www.kerbeck.com or call Dave Salvatore at 877-537-2325.
Online registration is now open for the 2011 Corvettes at Carlisle show. The show runs from Aug 26 – Aug 28, 2011.

Source:
Corvette Forum
Related:
[PICS] More 2012 Carlisle Blue Corvette Photos from Bloomington Gold
Corvettes on eBay: Lance Miller's 2009 Corvette ZR1
Maximizing Performance: New Packages and Upgrades for the 2012 Chevrolet Corvette