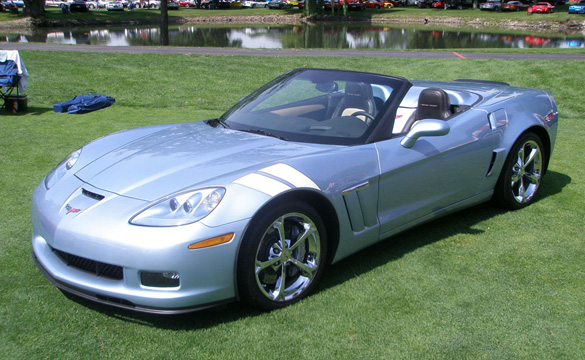 Article and photos contributed by Steve Burns
We finally had a chance to check out the new 2012 color, Carlisle Blue, in person last weekend at the Bloomington Gold show. This was on the same car which we spotted on Lance Miller's Facebook page. A constant stream of people surrounded the new Grand Sport convertible and its 2012 stable mates in the GM booth most of the weekend. Click past the jump to see more of Corvette's newest shade of blue.
We've now seen this new hue in varying shades of sunlight as well as with both the gray and polished wheels now. We think this going to be a love it or hate color. The color looks great in bright sunlight on cars with polished wheels. And when exposed to direct sun, the color takes on a cool, almost silverish tint. When fitted with the competition gray wheels the color seems to loose some of its visual appeal.
The 2012 Grand Sport convertible at Bloomington Gold featured a blue top, polished wheels, and two-tone cashmere and ebony interior. The new color definitely looks good when it's accompanied by the new blue top. Carlisle Blue is a great color, but just like anything else it'll have its supporters and detractors. Check out our photos from Bloomington Gold and then let us know what you think of Carlisle Blue.

Related:
[PIC] 2012 Carlisle Blue Corvette Grand Sport at Bloomington Gold
[PIC] 2012 Carlisle Blue Corvette Grand Sport Coupe
New Carlisle Blue Corvette Spotted on Car Hauler
[VIDEO] GM's Corvette Team Seminar: What's New for the 2012 Corvette
Picture Gallery: Friday at the C5/C6 Corvette Bash