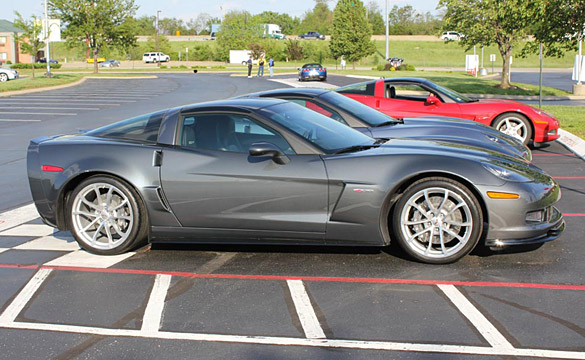 Good things come to those who wait and about fifteen minutes following the close of the National Corvette Museum, these production 2012 Z06 Corvettes were found parked in the front lot. Each features the new lighweight aluminum cup wheels in both black and Machined Face. The Supersonic Blue Z06 with the Black wheels are sporting the new Michelin Pilot Sport Cup tires.
The Michelin Pilot Sport Cups are a serious upgrade for enthusiasts who track their Corvettes for those looking for that something extra on the street. Other manufacturers have been offering the street legal cup racing tires for sometime now so they are definitely a welcome addition to the Corvette lineup.
If these wheels look somewhat familiar to you then ding ding, you get a prize. The same wheel can be found on the 2011 Corvette Z06X Track Concept car that debuted at the 2010 SEMA show.
Related:
Maximizing Performance: New Packages and Upgrades for the 2012 Chevrolet Corvette
New Color 'Carlisle Blue' to Make Debut on 2012 Corvettes
[VIDEO] Chevrolet Unveils 2012 Centennial Edition Corvette Package