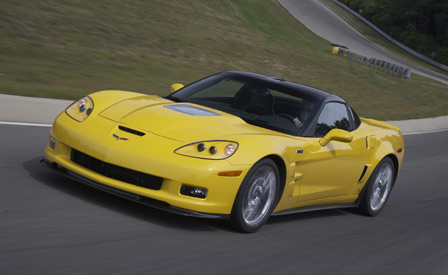 2009 was a year of highs and lows for Corvette. The high was most definitely the introduction of the Corvette ZR1. With a supercharged 638 horsepower engine, it's the most powerful production Corvette ever built by GM. The new ZR1 garnered the attention of automotive journalists everywhere who showered the car with awards and accolades. When we talk about the low points, it's the global automotive recession that resulted in a 52% decline in sales from the 35,310 Corvettes built in 2008 to just 16,956 built in 2009.
The Corvette Coupe remains the best selling model in the Corvette lineup with 8,737 produced (49.4%). For the second year in a row, the Z06 outsold the Convertible albeit with a much smaller margin 3,461 vs 3,342 (20.4% vs 19.7%). Finally, the ZR1 model with its base price slightly north of $100,000 saw 1,415 produced for an 8.3% market share.
Black remains the most popular exterior color with a 21.6% of Corvettes produced. However, the real surprise was Cyber Gray, which was a new color addition to the Corvette lineup in 2009. Cyber Gray was selected on 18.3% of all Corvettes and was the most popular color chosen for the combined Z06/ZR1 model. Victory Red was a solid third with a 13.2% share. Just one Corvette was painted LeMans Blue – the very first Corvette ZR1 built – purchased by Dave Ressler for $1 million at 2008's Barrett-Jackson auto auction.
Here are selected items from the final 2009 Corvette production stats. Click here to download the complete 2009 Corvette Production Statistics.
| | | | | |
| --- | --- | --- | --- | --- |
| Corvettes Produced | Amount | Percent | | |
| | | | | |
| Coupes | 8,737 | 49.4% | | |
| Convertibles | 3,343 | 19.7% | | |
| Z06 | 3,461 | 20.4% | | |
| ZR1 | 1,415 | 8.3 | | |
| | _______ | _______ | | |
| Total | 16,956 | 100% | | |
| | | | | |
| | | | | |
| Exterior Colors | Total | Coupe | Conv | Z06/ZR1 |
| | | | | |
| 10U Artic White | 863 | 603 | 260 | 0 |
| 17U Blade Silver | 1,642 | 937 | 269 | 436 |
| 19U LeMans Blue | 1 | 0 | 0 | 1 |
| 41U Black | 3,665 | 1,833 | 560 | 1,272 |
| 45U Velocity Yellow | 1,370 | 439 | 565 | 366 |
| 57U Cyber Gray | 3,104 | 1,416 | 393 | 1,295 |
| 74U Victory Red | 2,231 | 1,108 | 369 | 754 |
| 83U Atomic Orange | 726 | 409 | 91 | 226 |
| 85U Jetstream Blue | 1,367 | 650 | 191 | 526 |
| 89U Crystal Red | 1987 | 1,342 | 645 | 0 |
| | | | | |
| | | | | |
| Convertible Top Colors | Total | Coupe | Conv | Z06/ZR1 |
| | | | | |
| 35T Gray Beige | 676 | 0 | 676 | 0 |
| 37T Titan Gray | 212 | 0 | 212 | 0 |
| 41T Black | 2,455 | 0 | 2,455 | 0 |
| | | | | |
| | | | | |
| Interior Colors | Total | Coupe | Conv | Z06/ZR1 |
| | | | | |
| 02I Red | 852 | 409 | 158 | 285 |
| 19I Ebony | 11,192 | 6,178 | 1,829 | 3,185 |
| 31I Light Cashmere | 1,764 | 1,026 | 738 | 0 |
| 42I Ebony/Lt Linen | 358 | 135 | 69 | 154 |
| 78I Ebony/Dk Titanium | 946 | 142 | 91 | 713 |
| 84I Light Titanium | 1,611 | 781 | 439 | 391 |
| | | | | |
| | | | | |
| Equipment Packages | Total | Coupe | Conv | Z06/ZR1 |
| | | | | |
| 1LT (Coupe & Conv) | 3,271 | 3,033 | 238 | 0 |
| 1LZ (Z06) | 424 | 0 | 0 | 424 |
| 1ZR (ZR1) | 213 | 0 | 0 | 213 |
| 2LT (Coupe & Conv) | 1,879 | 1,193 | 686 | 0 |
| 2LZ (Z06) | 1,654 | 0 | 0 | 1,654 |
| 3LT (Coupe & Conv) | 5,230 | 3,256 | 1,974 | 0 |
| 3LZ (Z06) | 1,163 | 0 | 0 | 1,163 |
| 3ZR (ZR1) | 1,202 | 0 | 0 | 1,202 |
| 4LT (Coupe & Conv) | 757 | 449 | 307 | 1 |
| 4LZ (Z06) | 50 | 0 | 0 | 50 |
| | | | | |
| | | | | |
| Transmissions | Total | Coupe | Conv | Z06/ZR1 |
| | | | | |
| MH3 6-Speed Manual (ZR1) | 1,415 | 0 | 0 | 1,415 |
| MM6 6-Speed Manual | 5,225 | 1,455 | 309 | 3,461 |
| MX0 6-Speed Auto Paddle | 8,560 | 5,822 | 2,738 | 0 |
| MZ6 6-Speed Manual w/Z51 | 1,756 | 1,460 | 296 | 0 |
| | | | | |
| | | | | |
| Wheels | Total | Coupe | Conv | Z06/ZR1 |
| | | | | |
| QG6 Base Aluminum | 3,039 | 2,537 | 502 | 0 |
| QG7 Polished Aluminum | 1,989 | 1,497 | 492 | 0 |
| QL9 Z06 Polished Aluminum | 13 | 0 | 0 | 13 |
| QX1 Comp. Gray Aluminum | 1,028 | 945 | 83 | 0 |
| Q10 Z06 Base | 378 | 0 | 0 | 378 |
| Q44 Z06 Comp. Gray | 372 | 0 | 0 | 372 |
| Q6A ZR1 Comp. Gray | 283 | 0 | 0 | 283 |
| Q6B ZR1 Chrome | 1,132 | 0 | 0 | 1,132 |
| Q76 Z06 Chrome | 795 | 0 | 0 | 795 |
| Q8A Z06 Chrome Var1 | 1,903 | 0 | 0 | 1,903 |
| Q9V Forged Chrome | 5,649 | 3,258 | 1,891 | 0 |
| | | | | |
| | | | | |
| Other Options | Total | Coupe | Conv | Z06/ZR1 |
| | | | | |
| C2L Dual Roof Pkg | 1,051 | 1,051 | 0 | 0 |
| F55 Magnetic Select Ride | 3,520 | 979 | 1,126 | 1,415 |
| NPP Dual Mode Exhaust | 6,238 | 4,205 | 2,033 | 0 |
| R8C Museum Delivery | 392 | 126 | 83 | 183 |
| US8 Single CD/Radio | 5,882 | 4,487 | 930 | 465 |
| US9 Multi CD/Radio | 3,139 | 1,668 | 779 | 692 |
| UV6 Heads Up Display | 11,591 | 4,302 | 2,413 | 4,876 |
| U2K XM Satellite Radio | 15,983 | 8,058 | 3,274 | 4,651 |
| Z51 Performance Handling Pkg | 4,515 | 3,516 | 999 | 0 |
| | | | | |
| | | | | |
| Special Editions | Total | Coupe | Conv | Z06/ZR1 |
| CSC Comp Sport | 72 | 52 | 0 | 20 |
| GT1 GT1 Edition | 125 | 53 | 17 | 55 |
| ZHZ Hertz | 375 | 0 | 375 | 0 |
| Z06 | 3,461 | 0 | 0 | 3,461 |
| ZR1 | 1,415 | 0 | 0 | 1,415 |

Source:
Bowling Green Assembly Plant
Related:
Final Production Numbers for the 2009 Special Edition Corvettes
2009 Corvette Model Year Sales Data – Preliminary Results
Final 2008 Corvette Production Numbers
Technorati Tags:
Corvette | Vette | Chevy | Chevrolet | GM | 2009 | C6 | ZR1 | Z06 | Production | Bowling Green | Assembly |