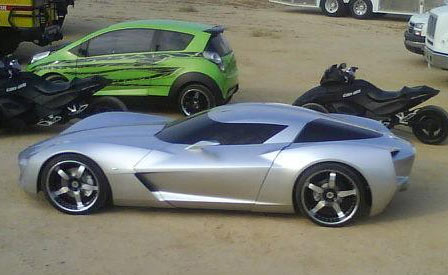 I was skeptical at first about the photos that surfaced last month from the filming of the Transformers 2 movie showing what was reported as a Corvette concept. But some intrepid photographer was to get to the automotive staging area on the set of the sequel currently being filmed on Edwards Air Force Base and snapped a few photos including this one showing not just one Corvette Concept, but two.
The lines on this Concept do scream Corvette with what appears to be a highly evolved coke-bottle design and a split rear window. The chopped top and wrap around windshield (first appearing on the '53 Corvette) are so cool and the massive tires look to be able to supply plenty of traction. Could this be a preview of the C7? Let's hope!
As GM is supplying many of the vehicles for the movie including the Chevrolet Beat, Trax and the now familiar next-generation Camaro, we wonder if this is an actual C7 style exercise, a tuner rebody or the product of a famous movie car customizing shop. GM has supplied two concepts to Michael Bay previously, the Camaro for the first Transformers movie and a Cadillac Cien for the cinematic thriller The Island, (LOL, cinematic thriller…) so we're not off base for making the suggestion.
The sequel, officially titled as Transformers: Revenge of the Fallen is sure to be hit when it makes it to the big screen next year. Total gross of the first Transformers movie was $319 Million in the US and $708 Million worldwide. GM's product placement of concepts into movies allows the automaker feedback about their designs as well as gives the base a chance to warm up to any redesign of the iconic American sports car.

Source:
Jalopnik

Related:
[VIDEO] Sixties Corvette To Make Warp Speed in Next Star Trek Movie?
Lighter, Greener Corvette on the Horizon