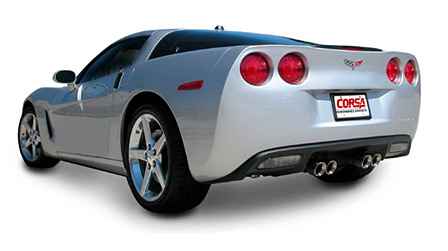 Last month we brought you Five Do-it-Yourself Appearance Mods for your C6 Corvette. Now that you got your ride looking good, its time to turn our attention to adding some performance and additional horsepower to your C6 Corvette. Once again, we turned to our friends at Ecklers Corvette Parts who gave us a list of the most popular C6 Corvette mods.
One of the easiest ways to add additional horsepower and torque, as well as give your Corvette a great sound is to add an aftermarket exhaust system. Here are three popular systems:
CORSA Sport with Pro-Series 3-1/2″ Quad Tips
The CORSA Sport provides a deep, full-bodied exhaust note at idle, yet provides a clean, crisp powerful exhaust note under acceleration. The system features straightflow thru design mufflers which provide 64% more exhaust flow than stock mufflers, giving you more power and torque. The CORSA Sport system is a bolt on system fitting all 2005 Corvettes as well as 2006-08 manual transmission Corvettes except the Z06. The system will delivered 5-8 rear wheel horsepower.
B&B Bullet Performance with Round Tips
Billy Boat performance exhaust introduces the newest and most aggressive C6 performance exhaust system-the BULLET! The bullet has quickly become the industry standard for a deep aggressive muscle car sound. The Bullet is a bolt-on installation and owners will have a 11-13 horsepower improvement over the stock exhaust system. The boldest tip style and configuration insure the C6 scream "muscle car".
Borla Stinger II Sport S-Type with Quad Round Tips
The Borla Stinger II system is race inspired and delivers that classic American Muscle Car sound. Featuring the exclusive X-Pipe that evens out exhaust pulses for improved flow, the Borla Sport system outflows all other aftermarket systems by 27%. Each system is an easy bolt-on product and includes all necessary mounting hardware. Fits all C6 Corvettes except the Z06.
It's a fact that if you want more horsepower out of your engine, you got to get more air into it. These two Air Induction systems force the air directly into your C6 Corvette's intake, lowering temperatures and increasing horsepower.
BPP Vortex Rammer Cold Air System
BPP's Rammer replaces the restrictive stock air box assembly. The cool air is forced through BPP's sealed air box, through BPP's revolutionary air cleaner and then into your intake, lowering manifold air temperature by almost 70°. The system will yield up to a 36 horsepower improvement at the flywheel and up to 36 fl.-lbs. of torque. Easy to install and fits all C6 Corvettes except the Z06.
Vararam Snake Charmer
Vararam Snake Charmer cold air intake is formed using two construction processes, the upper is roto molded and the lower scoop is vacuum formed to ensure maximum performance at all times. With other cold air kits, you can normally expect 10-15 horsepower but the Vararam can provide 39-42 horsepower at the flywheel through a mile. For 2005-2007 Corvettes.
Finally, no self respecting power-hungry Corvette owner would be without a flash-tuning programmer:
Diablo Sport Predator Tunable Performance Programmer
The Predator is an awesome tool for three reasons: The stock Diablo Sport download gives you a 18-21 horsepower on LS2, You can make custom enhancements including adjustments in timing, fuel enrichment, rev limiter, electric fans, shift firmness and shift RPM plus you can eliminate GM's torque management on automatics and finally, the Diablo will you cam get full OBDII diagnostics for your Corvette. For use on 2006-2007 Corvettes including the Z06.
These six performance mods are just the beginning for getting more horsepower out of your Corvette . If you are not already getting their C6 catalog, visit Ecklers Corvette Parts and request your free catalog today.

Source:
Ecklers Corvette Parts
Related:
Five Do-it-Yourself C6 Corvette Appearance Mods
Technorati Tags:
Corvette | Vette | C6 | Mods | Performance | Exhaust | Aftermarket | Ecklers