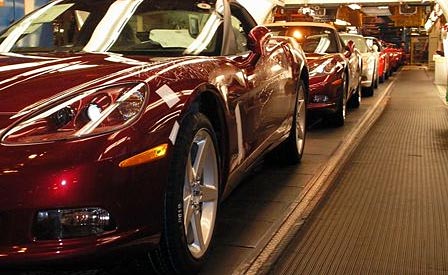 2008 was a banner year for the Corvette. The model year received a mid-cycle upgrade that featured the new 6.2 Liter LS3 engine with 436 horsepower, new interior choices and two exciting new colors, Jetstream Blue and Crystal Red Metallic. Two special edition Corvettes were built, the Z44 Corvette Z06 427 edition and the Z4Z 30th Anniversary Indianapolis Pace Car. Demand for new Corvettes translated into 35,310 Corvettes produced, and for the first time since its re-introduction in 2001, the Z06 outsold the convertible.
The Bowling Green Assembly Plant's release of 2008's Corvette Production Figures shows that 7,731 (22%) Corvette Z06s were built compared to 7,549 (21%) Corvette Convertibles. This is lowest output of Convertibles since 1996 when only 4,369 were produced. The Coupe made up the majority of production with 20,030 (57%) Corvette Coupes assembled.
When it comes to colors, 1 out of every 4 Corvettes is Black (9,380 – 26.6%). The two shades of red, Victory Red (5,638) and the new Crystal Red (5,420) make up 31.3% of colors produced. The other new color for 2008 was Jetstream Blue, which accounted for 3,728 Corvettes (10.26%). That figure was in line with 2007's LeMans Blue in which 3,854 were made. What's also interesting is how this report from the assembly plant references the two new colors: Jetstream Blue is called Bluestream and Crystal Red is called Crystal Claret. Hmmmm.
Corvette's popularity abroad remained strong for 2008. Exports to Europe were 1,300 (3.7), Canadian Units totaled 643 (1.8%), and Corvettes exported to Mexico totaled 32 (0.1%).
Here are selected highlights from the final 2008 Corvette Production Numbers:
| | | | | |
| --- | --- | --- | --- | --- |
| Corvettes Produced | Amount | Percent | | |
| | | | | |
| Coupes | 20,030 | 57% | | |
| Convertibles | 7,549 | 21% | | |
| Z06 Hardtops | 7,731 | 22% | | |
| | _______ | _______ | | |
| Total | 35,310 | 100% | | |
| | | | | |
| | | | | |
| Exterior Colors | Total | Coupe | Convertible | Z06 |
| | | | | |
| 10U Artic White | 1,974 | 1,320 | 654 | 0 |
| 41U Black | 9,380 | 4,977 | 1,818 | 2,585 |
| 45U Velocity Yellow | 3,264 | 1,816 | 550 | 898 |
| 67U Machine Silver | 3,660 | 2,088 | 753 | 819 |
| 74U Victory Red | 5,638 | 3,120 | 1,116 | 1,402 |
| 83U Atomic Orange | 2,246 | 1,272 | 458 | 516 |
| 85U Bluestream | 3,728 | 2,067 | 655 | 1,006 |
| 89U Crystal Claret | 5,420 | 3,370 | 1,545 | 505 |
| | | | | |
| | | | | |
| Convertible Top Colors | Total | | | |
| | | | | |
| 35T Gray Beige | 1,779 | | 1,779 | |
| 37T Titan Gray | 630 | 0 | 630 | |
| 41T Black | 5,140 | 0 | 5,140 | |
| | | | | |
| | | | | |
| Interior Colors | Total | Coupe | Convertible | Z06 |
| | | | | |
| 02I Cobalt Red | 2,207 | 989 | 506 | 712 |
| 19I Ebony | 20,730 | 12,837 | 3,242 | 4,651 |
| 24I Ebony/Brick | 689 | 256 | 138 | 295 |
| 31I Light Cashmere | 4,940 | 2,952 | 1,988 | 0 |
| 42I Ebony/Lt Linen | 1,669 | 632 | 367 | 670 |
| 78I Ebony/Dk Titanium | 505 | 0 | 0 | 505 |
| 84I Light Titanium | 4,570 | 2,364 | 1,308 | 898 |
| | | | | |
| | | | | |
| Transmissions | Total | Coupe | Convertible | Z06 |
| | | | | |
| MM6 6-Speed Manual | 11,760 | 3,235 | 794 | 7731 |
| MX0 6-Speed Auto Paddle | 19,136 | 13,304 | 5,832 | 0 |
| MZ6 6-Speed Manual w/Z51 | 4,414 | 3,491 | 923 | 0 |
| | | | | |
| | | | | |
| Wheels | Total | Coupe | Convertible | Z06 |
| | | | | |
| QG6 Base Aluminum | 7,828 | 6,701 | 1,127 | 0 |
| QG7 Polished Aluminum | 5,412 | 3,973 | 1,439 | 0 |
| QL9 Z06 Polished Aluminum | 970 | 0 | 0 | 970 |
| QX1 Comp. Gray Painted Aluminum | 1,781 | 1,588 | 193 | 0 |
| QX3 Chrome | 9,626 | 6,063 | 3,563 | 0 |
| Q10 Z06 Base | 760 | 0 | 0 | 760 |
| Q44 Z06 Comp. Gray | 395 | 0 | 0 | 395 |
| Q76 Z06 Chrome | 5,101 | 0 | 0 | 5,101 |
| Q8A Z06 427 SE | 505 | 0 | 0 | 505 |
| Q9V Forged Chrome | 2,932 | 1,705 | 1,227 | 0 |
| | | | | |
| | | | | |
| Other Options | Total | Coupe | Convertible | Z06 |
| | | | | |
| C2L Dual Roof Pkg | 2,773 | 2,773 | 0 | 0 |
| F55 Magnetic Select Ride | 4,666 | 2,959 | 1,707 | 0 |
| NPP Dual Mode Exhaust | 13,454 | 9,254 | 4,200 | 0 |
| R8C Museum Delivery | 954 | 471 | 284 | 199 |
| UV6 Heads Up Display | 25,493 | 10,973 | 6,789 | 7,731 |
| U2K XM Satellite Radio | 33,561 | 19,086 | 7,348 | 7,127 |
| Z51 Performance Handling Pkg | 10,706 | 7,757 | 2,949 | 0 |
| | | | | |
| | | | | |
| Export Units | Total | Coupe | Convertible | Z06 |
| CV3 Mexican Export | 32 | 24 | 8 | 0 |
| MAE European Export | 1,300 | 656 | 172 | 472 |
| Z49 Canadian Export | 643 | 212 | 181 | 250 |
| | | | | |

Source:
Bowling Green Assembly Plant via CorvetteConti.com
Related:
Official 2008 Corvette Pricing Announced
Final 2007 Corvette Production Numbers
Technorati Tags:
Corvette | Vette | 2008 | C6 | Production | Bowling Green | Assembly | Z06