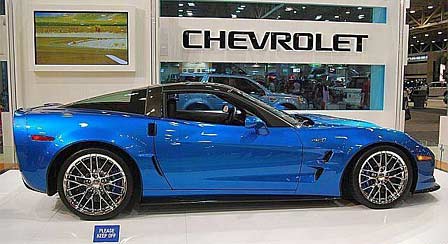 Seems like it was forever-ago when the 2009 Corvette ZR1 was introduced at January's GM Style event. With all the fanfare and Kid Rock to boot, the Corvette ZR1 single-handedly took over the North American Internation Auto Show. Six months later and just one month before the 6.2L Supercharged carbon fiber wonder begins production, GM is giving us the final piece of the Corvette ZR1's puzzle: pricing and official performance statistics.
The official MSRP of the 2009 Corvette has been set at $103,300, making the Corvette ZR1 the most expensive Chevrolet ever offered. The MSRP includes the $850 destination charge that's on every Corvette. An options package is also available for $10,000 and the chrome wheels will set you back another $2,000. Finally, and most unfortunately, the Federal Government gets in on the act with a $1,700 gas guzzler tax. So for those of you keeping track, a fully loaded 2009 Corvette ZR1 will cost you $117,000.
So what are you getting for $117,000? How about an American Super car that can stack up against any competition, foreign or domestic. We saw how the engineers ran the Corvette ZR1 to a top speed of 205 mph (330 km/h) on a German test track. Now we learn that the ZR1 can run 0-60 at 3.4 seconds, 0.3 seconds faster than the Z06, and its 0-100 mph is 7.0 seconds for the ZR1, almost a full second faster 7.9 seconds posted by the Z06. Finally, the all-important quarter mile time is 11.3 seconds at 131 mph.
"A favorable power-to-weight ratio gives the ZR1 an advantage over the competition and performance that has to be experienced to fully appreciate," said Tom Wallace, Corvette chief engineer. "Of course, on a racetrack, drivers of competitors' cars may appreciate the ZR1 in a whole different manner."
The Corvette ZR1 has an EPA fuel rating that also beats several renowned super cars. The ZR1 is estimated to get 14 mpg city and 20 highway. Ferrari's 599 GTB Fiorano gets 11 city/15 highway, the Lamborghini Murcielago gets 8 city/13 highway and the Aston Martin V8 Vantage gets 12 city/19 highway. As Corvette's Chief Engineer Tadge Juechter acknowledged in April's Live Chat, the Corvette ZR1 is subject to a modest gas guzzler tax of $1,700.
While the standard Corvette ZR1 is based on the same interior refinements of the Corvette Z06, for the discriminating buyer with an additional $10,000, Chevrolet is offering an Options package that includes the following upgrades:
Power-adjustable, heated and leather-trimmed ZR1 embroidered sport seats
Side air bags
Bose premium audio system
Navigation system
Bluetooth connectivity
Power telescoping steering column
custom leather-wrapped interior available in four colors
The only other option available for the Corvette ZR1 are Chrome Wheels, which will add an additional $2,000 to the MSRP.
The Corvette ZR1 has been a long time coming and with production starting in July, it should be just a couple of more months before we start seeing them at shows and on the street. Chevrolet has produced a true super car that's ready to compete on the world stage. Now, about the C7 Corvette…

Source
GM.com
Related:
Corvette ZR1's Supercharged LS9 Nominated for Engine of the Year Award
Barrett-Jackson 08: [VIDEO] 1st 2009 Corvette ZR1 Sold for $1 Million
Technorati Tags:
Corvette | Vette | ZR1 | 2009 | Engine | Horsepower | Prices | Pricing |