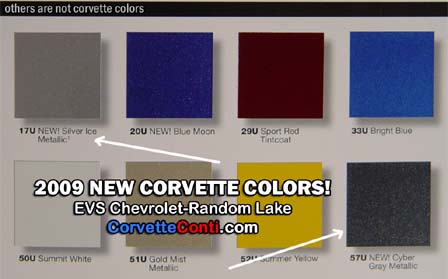 As we get closer to the unveiling of the 2009 Corvettes at the Corvette Museum's C5/C6 Bash later this month, we're learning more about the changes – both deletions and additions – that will accompany next year's Corvette model. CorvetteConti.com has posted an image showing the two new exterior colors: Cyber Grey Metallic which we all know from December's unveiling of the Corvette ZR1, and Blade Silver which will replace the popular Machine Silver. The other colors shown are not Corvette colors, but check out that Summer Yellow and tell me it doesn't remind you of War Bonnet Yellow.
Many might not realize but Machine Silver was the third most popular color on the 2007 Corvette, following only Black and Victory Red as the exterior color of choice. In fact, since its inception on the last of the C5 Corvettes in 2004, Machine Silver has consistently ranked as one of the top colors with each model year, besting fan favorites LeMans Blue and Velocity Yellow. Machine Silver has been listed as a production constraint over the last few weeks and is now officially discontinued.
The new color, Blade Silver (RPO Code 17U) appears to be slightly darker than Machine Silver based on the chip, but we all know that to judge a color correctly, it must be seen on the car and outdoors.
The two new colors are available on all four 2009 Corvette Models: Coupe, Convertible, Z06 and ZR1.
We'll have more on what's new with the 2009 Corvette in the coming days. In the meantime, you can download the 65 page 2009 Corvette Ordering Guide.
Sources:
CorvetteConti.com
Related:
2009 Corvette ZR1 Image Gallery

Technorati Tags:
Corvette | Vette | 2009 | Color | Paint | Exterior | ZR1