One of the fun aspects of owning a Corvette is customizing it to your heart's content. Our friends at American Hydrocarbon are all-in on that philosophy and offer Corvette owners a number of various ways to customize their rides inside and out. From custom engine covers and trim appearance sets to the latest C8 Corvette aero packages, you'll find plenty of ways to make your Corvette as special and unique as you are.
American Hydrocarbon manufactures all their products in the USA and look for the GM logo as many are now officially GM licensed products. As an exclusive offer for CorvetteBlogger readers, you can save 5% and get FREE SHIPPING when you use the promo code SAVE5 at check out!
Build Your Own Custom Three Piece Engine Cover Set

American Hydrocarbon's three-piece engine cover set for the C8 Corvette Stingray is one of the most popular mods offered. After all, you bought the Stingray Coupe to show off the LT2 V8 engine under the glass hatch, so why not give it the custom look it deserves! This three-piece C8 Custom Engine Cover set allows you to choose a base or premium custom engine cover that is paired with GM officially licensed side appearance panels and they can be customized nearly any way you like.
The three-piece set includes the custom painted OEM engine cover and the two side appearance panels. You can select between a number of different finishes that include Carbon Flash Metallic, hydrocarbon (Carbon Fiber), or body color and they can be accented with additional colors and logos as well.

The C8 engine covers are an OEM GM replacement part so they offer a perfect replacement fit. The crossed flags on the engine covers are painted by hand then covered in five coats of PPG UV automotive clear coat for the ultimate protection.
In addition to the custom build sets, American Hydrocarbon also offers a number of pre-configured custom sets in Accelerate Yellow and Torch Red. The starting price on the custom three-piece engine cover set is $1,595.
Aeromax 1VM Splitter

Now an official GM licensed product, the Aeromax 1VM front lip splitter gives your Corvette Stingray a more aggressive look! Designed and manufactured in the USA, the Aeromax splitter can be finished in visible carbon fiber, carbon flash metallic, or painted body color to match your C8 Corvette. You can add stripes to the splitter and there is also a number of logo options available ranging from the Stingray R to the Jake mascot from Corvette Racing.
The one-piece Aeromax 1VM Splitter is made from hand-laid fiberglass and is constructed for strength and durability. It's covered in five coats of PPG UV automotive clear coat and then buffed to a show-quality shine. Installation is easy as the splitter utilizes the same OEM mounting screws already on the car. The C8 Corvette Aeromax 1VM Front Lip Splitter starts at $1,295.
Speedline 1VM Side Skirts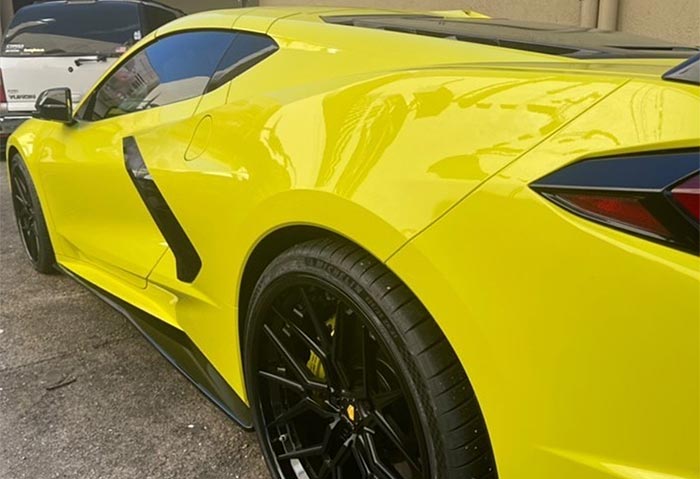 Here's a new item just added to American Hydrocarbon's C8 Corvette product line-up. It's their Speedline 1VM Side Skirts which are the perfect complement to the Aeromax 1VM wingless front splitter. Side Skirts bring an aggressive look to the C8 Corvette, but it's a clean design with no wings. Not only do these side skirts look great on your Corvette, but they also help to protect the rear haunches of the C8 from rock strikes and other road debris that is kicked up by the front tires.
The Speedline Side Skirts are made in Florida from hand-laid fiberglass to create a strong and durable aero component. They can be finished in a variety of designs including Carbon Flash Metallic, visible Carbon, or body color, and you can select from a number of logos or graphics which are painted and then sealed during construction. The C8 Corvette Speedline 1VM Side Skirts start at $1,595.

Visit American Hydrocarbon to see all the various ways you can make your C8 Corvette as unique as you are. Visit them online at https://americanhydrocarbon.com. As an exclusive offer for CorvetteBlogger readers, you can save 5% and get FREE SHIPPING when you use the promo code SAVE5 at check out! If you don't see the part you are looking for or need more information, call or text 813-476-5638 or send an email to company president Pat Scorzetti.

Source:
American Hydrocarbon