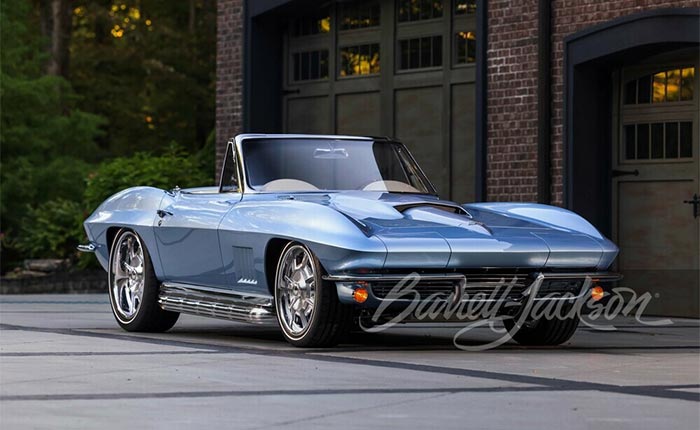 For us car guys and gals, January is the most wonderful time of the year. Thousands of collector cars trade hands between the copious Arizona and Florida auctions. While we've previously been looking at Mecum's Kissimmee sale, it's now time to move over Barrett-Jackson's 50th anniversary auction taking place January 22-30 in Scottsdale, Arizona.
One of the top Corvette draws at Barrett-Jackson is this stunning 1967 restomod convertible assembled by the talented crew at Jeff Hayes Customs. What began as a standard C2 Corvette has been transformed into a modern road weapon combining timeless style with all the modern luxuries.

An Art Morrison chassis provides the base for this build. The upgraded suspension sports Wilwood vented disc brakes all the way around and brings this beast to a stop.
An all-aluminum 540hp LS3 small-block sits under the hood. Behind that, a 4L70E 4-speed automatic overdrive transmission routes the power back to the drive wheels. Speaking of wheels, a set of custom Schott rims can be found on all 4 corners. The thin whitewall tires complement the overall appearance.

The Sting Ray's body is finished in a flawless shade of silver-blue while a cream leather interior completes the whole look. The overall appearance is pretty much stock C2 from the 67-only big block hood down to the side mount exhaust.
Inside, we see a modern take on the classic Corvette cabin. A wood steering wheel fronts a silver-finished steering column and custom gauges while a Vintage Air HVAC system controls the interior climate. An AM/FM Bluetooth stereo provides the soundtrack when not listening to those raucous side pipes.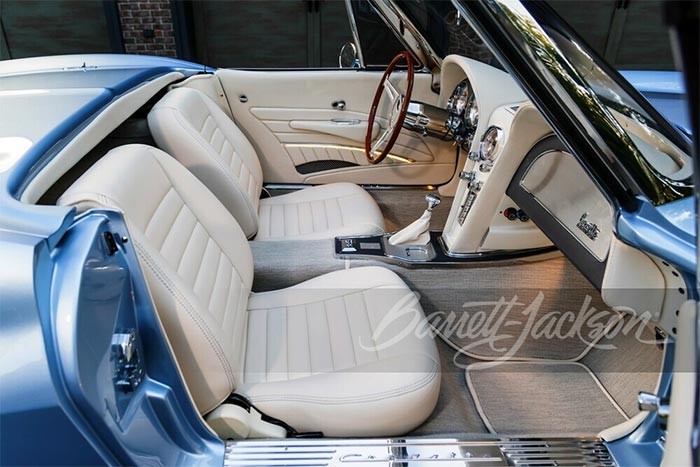 We've seen several Jeff Hayes custom Corvettes for sale over the years and each one seems to be even better than the previous one. This one is no exception to that theory. Once again, we've got a subtle and modernized version of the timeless 1967 Corvette. Lot 1367 will sell at No Reserve in just a few weeks so tune into the FYI network to see just how far into 6-figures this piece of rolling art will sell for.

Source:
Barrett-Jackson

Related:
Custom 1966 Corvette Restomod Named 'Blue Diamond' Headed to Barrett-Jackson Houston
Stunning 1963 Corvette Split Window Restomod From Jeff Hayes Customs Headed to Barrett-Jackson
[PODCAST] Barrett-Jackson Auction Host Rick DeBruhl is on the Corvette Today Podcast