One of the things that excites us the most about a new Corvette is the ability for the owners to make their own. That's where ACS Composite comes in. They offer high-quality aftermarket parts and accessories for the Corvette at affordable prices. Whenever possible, ACS designs their aftermarket parts for easy installation and you can be sure they are made to last!
It seems as though our friends at ACS Composite have been on a roll recently with new product introductions and today we were going to be taking a closer look at a new spoiler from their ever-expanding portfolio of products for the mid-engine C8 Corvette.

C8 Speedtail Spoiler
ACS says its customers have wanted to see a different spoiler offered than the current Z51-style spoiler or the optional High Wing. Both the Z51-spoiler and the High Wing spoiler produce 400-lbs of downforce onto the back of the car. That's great for when you are tracking your car, but as we know, the Z51 gives up 10-mph of its top speed because of the spoiler, with non-Z51 Corvettes capable of 194 mph vs the Z51's 184 mph. So ACS went the other direction to offer a low profile zero-drag spoiler for those that prefer a cleaner look, or those that simply want the most drag-efficient aero components.

The C8 Speedtail Spoiler is much slicker and cleaner than the stock spoiler, and it fills the gap between the clean rear deck look of the base non-Z51 and the spoiler on the Z51. We like how it accentuates the rear of the car, following the body lines while providing an OEM-like fit and finish.

The Speedtail spoiler is manufactured through a process called blow molding technology, typically used by OEM manufacturers for performance accessories like spoilers and splitters. Offered in Carbon Flash Metallic Black, it will match the other carbon flash components found on the C8 Corvette. As the Speedtail was designed as a replacement for the Z51 spoiler, it utilizes the existing OEM mounting points used by the Z51 or High Wing spoiler. Non-Z51 cars will require drilling, and there's an included template to ensure a perfect match with the OEM mounts. ACS offers an installation video on its YouTube channel.
ACS Composite is selling the C8 Speedtail Spoiler for $899 with Free Shipping included.

C7 and C8 Tow Hook
Nothing says "race-inspired" quite like a tow hook for your Corvette. ACS offers threaded 4-inch chrome-moly steel tow hooks for the C7 and C8 Corvettes. The tow hook's D-Ring is offered in red powder coat for a long-lasting finish.

The ACS Tow Hooks will fit the front and rear of all C8 Corvettes as well as all C7 Corvette models from Stingray to ZR1, although early Stingrays made prior to 12/14/14 require a receiver also offered by ACS. The tow hook's D-ring will not rub or hit the grill or bumper as the Heim's joint is very tight. To install, simply reveal the hook receptacle and screw it in until tight.

ACS Composite offers the Front Tow Hook for $125 or you can upgrade to the front and rear set of two for $225.

C5-C8 Corvette Jacking Pucks
Experienced Corvette owners know that jacking pucks are a must and you can't assume that your local tire shop or repair facility has them. Jacking pucks offer a secure and solid lifting point and without them, you can do costly damage to your Corvette's rocker panels. ACS Composite offers Jacking Pucks that fit with all OEM factory side skirts and ACS Composite Corvette side rocker panels. The best news is that they are left in after install, so you can set and forget once they are in place.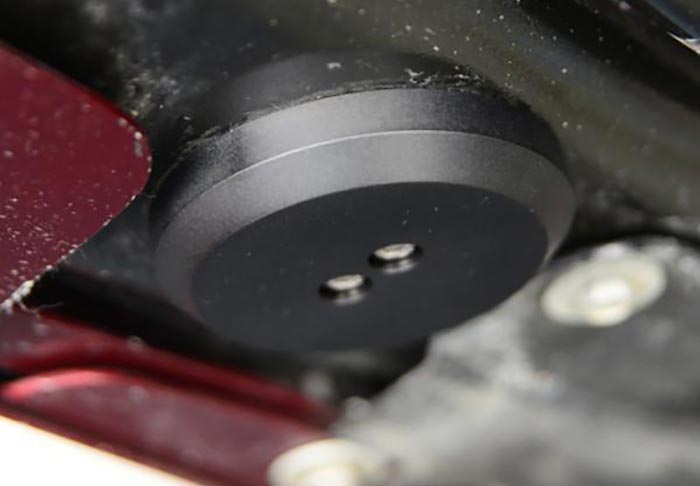 ACS Composite's Jacking Pucks are machined from solid heavy-duty aluminum and are coated in Red, Black, or Blue metallic finish. They can be installed on all C5, C6, C7 and C8 Corvettes and fit all models from Stingray and Grand Sport to Z06 and ZR1. If you've seen those horror stories of cars falling from lifts due to jacking or lifting the car from the wrong points, the colored Jacking Pucks provides an easy sight reference for those unfamiliar with the process.

Installation is a snap with a supplied Allen wrench, no drilling is required. Once installed, the Jacking Pucks offer a 2.5″ diameter lifting surface. They are just 0.5-inches thick and can also be easily removed. ACS offers an installation video as well.
The set of four Corvette Jacking Pucks from ACS Composite cost $99.00 and shipping is free.

Source:
ACS Composite