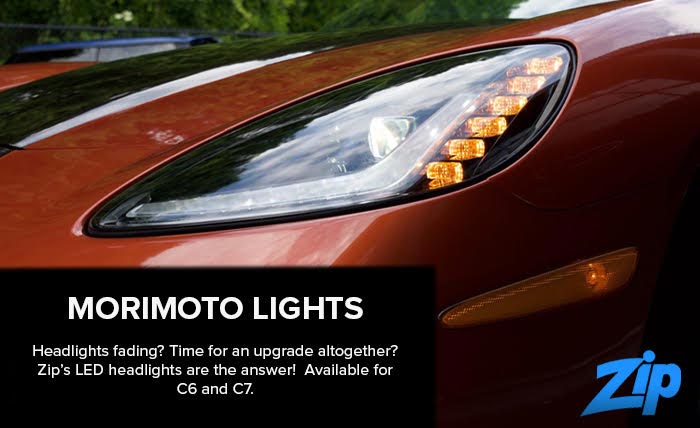 Upgrade to a full LED experience with Morimoto XB Headlights from Zip Corvette
Our friends at Zip Corvette have the first and last aftermarket option that you'll ever need for your C6-C7 Corvette's lighting – Morimoto XB LED Headlights and Tail Lights. Well built with a virtually infinite life span, Morimoto out-performs the alternatives and looks fantastic on your Corvette.
If your C6 headlights have lost their luster, you're not alone. Faded headlights are a common issue among 2005-2013 Corvettes. The most notable causes are failure of the factory lens coating and sub-par performance from the OEM HID headlights. C6 owners have two options: replace the lens (which is nearly impossible as the factory headlight was non-serviceable) or consider an upgrade.
Zip's 2005-2013 Morimoto XB LED Headlights w/ Driving Lights are the best upgrade available for your C6 Corvette.

C6 Morimoto headlights provide crystal clear lighting with a design that incorporates sleek daytime running lights similar to the C7 Corvette Stingray. These headlights produce a well-defined beam pattern with a great amount of width, intensity, and proper distribution of light that will far out-perform even the C7's more modern setup.
Zip's 2014-2019 Morimoto XB LED Headlights are for the C7 owner who isn't content with just "stock". Now you can upgrade your C7 Corvette to a full LED setup! The subtle elements incorporated into the design are more than enough to make them stand out on your C7, but they're clean enough to be considered top-of-the-line original equipment to those who don't know any better.

Wiring is easy, too! Morimoto lights are designed to work on your Corvette without any modifications. Plugs into the factory connectors for the stock headlights and each assembly includes all necessary connectors, rubber seals, and pigtails for a plug-n-play install. No error codes, no flickering, hyper-flashing, or radio interference.
Morimoto XB LED headlight projector optics meet and exceed all SAE, DOT, and FMVSS108 regulations when aimed properly…and that's easy to do with their integrated vertical/lateral adjusters. DOT Approved.
Morimoto headlights from Zip are the best way to facelift your 2005-2019 Corvette. Turn heads wherever you go this summer!

Source:
Zip Corvette