CorvetteBlogger Readers Get 50% BONUS ENTRIES
The Corvette Dream Giveaway is where you can win both a classic 1961 Corvette Roadster AND a brand new 2021 Corvette Stingray for your donation of just $3.00. And to sweeten the deal even more, you'll receive a check for $43,000 to cover the winner's taxes so you can take home both Corvettes home and it not cost you anything more than your initial donations. The more you donate, the more chances you have to win. And as a bonus for loyal CorvetteBlogger readers, the Dream Giveaway will give you 50% more entries when you use this special promo code.
If you were to ever visit the SEMA Show in Las Vegas, this Silver over Red 1961 Corvette Roadster is exactly the kind of restomod that makes the show so much fun. Like any great restomod, you get the classic looks but modern-day performance. This 1961 rides on a Corvette Corrections Chassis with adjustable coilover shocks and a Dana 44 rear end, while an LS3 V8 crate engine offers 525-hp. Best of all, you can row the gears as you'll have complete control of that power through the six-speed manual transmission.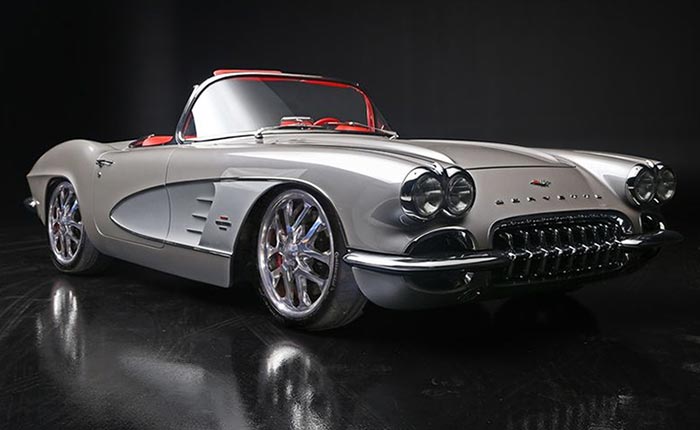 Other options on this dream machine include power steering and brakes, 19-inch Budnik custom wheels, and performance-rated Continental tires. Unbelievably, this restomod has less than 100 miles since completion, and with a build cost exceeding $250K, only the Corvette Dream Giveaway could make a Corvette like this attainable to the average enthusiast.

And in this corner, a contender that needs no introduction. The C8 Corvette has taken the automotive world by storm, and this 2021 Corvette Z51 Coupe in new Silver Flare is the answer to the question nobody but us would ask, which is "Name a supercar you can get for $3?" The Dream Giveaway always offers heavily-optioned cars and this one comes fully loaded with the Z51 Performance Package, along with the visible carbon fiber roof panel, the 5VM aero package and the carbon flash High Wing. Inside is a 3LT interior with Adrenaline Red competition sport seats, carbon fiber interior trim, and the engine appearance package. Altogether, this Stingray carries an MSRP of $93,000 and it can be yours with 50% more entries on ticket orders of $25 or more.

That's a great machine right there as-is from the factory in Bowling Green, but the Corvette Dream Giveaway wanted to up the ante even more. This 495-horsepower Corvette will soon be undergoing a transformation by longtime Dream Giveaway partner Lingenfelter Performance Engineering to up the power to a naturally aspirated 600-hp.
Spent the last 2 days getting the break in 500 miles on this beautiful new C8 Corvette, I really can't get enough of these cars, this one will get the full Lingenfelter treatment, the paint on this one is the new silver flare metallic, black and red interior really great look !!! pic.twitter.com/s69AWL0jGv

— Ken Lingenfelter (@KenLingenfelter) April 10, 2021

Sponsored by Continental tires, Lingenfelter Performance Engineering, and American Car Craft, the 2021 Corvette Dream Giveaway is a tax-deductible fundraiser with proceeds going to a number of well-known charities across the USA with the main beneficiary being the New Beginning Children's Homes, a 501(c)(3) organization which provides family-focused living accommodations for abused, neglected or orphaned children. The Corvette Dream Giveaway also supports a number of well-known and respected charities including Honor Flight of West Central Florida, the National Guard Education Foundation, Smile Network International, Mothers Against Drunk Driving, Detroit Rescue Mission Ministries, 4Kids, and Bright Pink.

We have met the winners of the Corvette Dream Giveaway at the annual awards ceremony. The cars are real, the check for $43,000 is real and the smiles from the winners as they take both sets of keys are real. We would love to see you in Clearwater, Florida in early 2022 as you take home these two great Corvettes along with a check for $43,000 to pay the taxes. CorvetteBlogger readers get 50% MORE ENTRIES on donations of $25 or more so get your tickets today!

Source:
Corvette Dream Giveaway