We've been enjoying the fun experiences coming from Matt and his Green 2020 Corvette Stingray on his YouTube channel, RearWheelDrive. The guy has been doing all sorts of "next level driving adventures" with his car and we appreciate him taking us along for the ride. Along with his unique Green Corvette is a wild fish-eye camera mounted to the rear deck that offers one of the most unique perspectives at the track.
I caught this new video late last night of Matt's recent trip to Florida's Bradenton Motorsports drag strip where he races all kinds of varying competition. Like most drag racer enthusiasts we know, the ultimate goal is not so much beating the guy lined up in the next lane as it is about beating your personal best. For Matt, that time is a 10.93 in his mostly stock Corvette, so let's see how he does today.
Matt was slated to run against a Hellcat for his first race, but the kitty must have been nervous so he ended up doing a solo run with just the C8. Next up is a Shelby GT500 being driven by one of his friend's dad and Matt gets a great launch there. Next up is Mustang GT and that horse can't keep up with the Stingray either.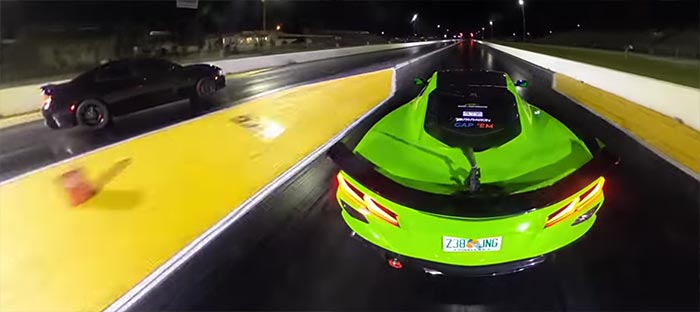 After that race, Matt parks his car for a bit as he hopes to see the temperatures fall from the hot 87-degrees earlier, and when he re-enters the racing lanes to do battle with a 10-second Hellcat, the early evening temps had fallen just a degree to 82. The Hellcat gets a great launch on that race, and then for Matt's last race, he lines up against an AWD Jeep Trackhawk.
Throughout the event, Matt talks to us through his interior-mounted camera and it is like we are sitting in the passenger seat for the various races. We kept the times and results mostly to ourselves so as to not spoil the fun. What we really love about the C8 Corvette is the ability to be a contender at any track right out of the box. Matt is working on some additional mods and will most likely be one of the first C8 Corvettes to be equipped with the Procharger supercharger system, so we are definitely looking forward to that.

Source:
Rear Wheel Drive / YouTube

Related:
[VIDEO] 2020 Corvette vs Tesla and BMW at the Drag Strip
[VIDEO] This is the Fastest C8 Corvette on the Planet
[VIDEO] Bone Stock 2020 Corvette Stingray Runs Quarter Mile in 11.56 @ 120.34 mph