It's hard to believe that later this year we will be celebrating the third anniversary of the return of the ZR1 nameplate to the Chevrolet Corvette. In late 2017, Chevrolet unveiled the supercharged C7 King of the Hill in Dubai, and the Corvette collecting world hasn't been the same.
The 2019 ZR1 was Chevrolet's swan song to the C7 Corvette and it sure didn't disappoint! With 755 horses and 715 lb-ft of torque from the supercharged 6.2-liter LT5 V8 engine, the ZR1 was the most powerful production Corvette ever assembled and it was capable of speeds in 214 MPH. To accommodate the huge 2.65-liter Eaton supercharger, the whole front end was redesigned with a high-rise hood, a new front fascia was optimized for providing additional cooling to the engine, and it was capped with a signature wing on the back that provided 950 lbs of downforce.
Production ran wickedly long for the 2019 Corvette models as the Corvette Team was gearing up to begin production of mid-engine C8, and that extra selling time allowed for 2,953 ZR1s to be completed. Now that the C8s are in their 2nd year, you would think that interest in the C7 ZR1 would be somewhat diminished from its highs when the car was the darling of the automotive press, but that isn't happening at all. In fact, it appears that the ZR1 has even more momentum behind it as we've seen collectors continuing to push the model to new highs at Mecum and Barrett-Jackson events this year.

The good news for those of you on the hunt for a 2019 ZR1 is that you don't have to look very hard to find a low-mileage example for sale, and our friends at C&N Motor Cars in Marysville, OH have made the hunt even easier with five examples of the Corvette ZR1 under one roof.
C&N Motor Cars is a boutique car dealership in Marysville, Ohio with a special interest in offering Corvettes of all vintages. They also deal in other collectible marques as well…it's a place where you could find anything from a $26,000 Mini Cooper to a $630,000 Ferrari 458 Aperta. But we're here for the ZR1s and these three totally live up to the hype:
2019 Corvette ZR1 in Black – $169,900

VIN 2693 is Black 2019 ZR1 Coupe with the 3ZR trim package and the ZTK Performance Package which features the adjustable carbon fiber high wing spoiler, tuned suspension, and the Michelin Pilot Sport Cup 2 tires. Options include an Adrenaline Red interior with Competition Sport seats and red seat belts, an 8-speed paddle-shift automatic transmission, and carbon flash ZR1 wheels with Corvette Racing's Jake on the center caps. Mileage on the car is reported to be 1,766.
Offered for $169,900. Click here for additional photos and information.

2019 Corvette ZR1 in Arctic White – $169,900

VIN 1165 is an Arctic White Corvette ZR1 Coupe built on October 15th, 2018. This one also features the 3ZR premium equipment group but comes with the Low Wing spoiler which makes for easier access to the ZR1's hatch and storage area. Options include the Adrenaline Red interior with perforated Napa leather seats and red seat belts while the dash and center console shows off the beautiful carbon fiber trim. The ZR1 utilizes the 8-speed automatic transmission with paddle-shifts, Carbon Flash ZR1 wheels with "Carbon" center caps, red Brembo brake calipers, a visible carbon fiber removable roof panel, and the Performance Air Intake which adds an additional 17 hp to the ZR1's supercharged LT5 V8.
Offered for $169,900. Click Here for additional photos and information.

2019 Corvette ZR1 in Torch Red – $169,900

VIN 2038 is 2019 ZR1 Coupe finished in beautiful Torch Red with an Adrenaline Red interior. The ZR1 comes equipped with the 3ZR premium equipment group and is also featuring the ZTK track performance package with the carbon fiber adjustable High Wing spoiler. Inside the ZR1 is the Adrenaline Red Napa leather interior with Competition Sport Seats, the 8-speed automatic transmission with paddle shifts, and the carbon fiber trim package. The ZR1 coupe comes with the dual removable roof package that has a visible carbon fiber panel along with a lightweight acrylic transparent top. Topping off this King of the Hill are carbon flash ZR1 wheels with blue Brembo brake calipers.
Offered for $169,900. Click Here for additional photos and information.

1971 ZR-1 in Silver – $275,000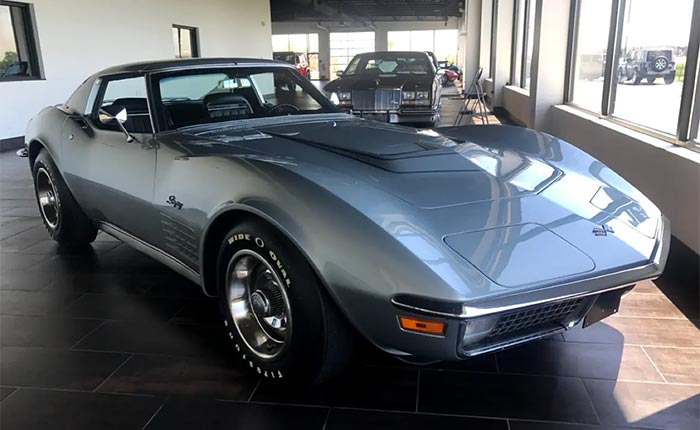 For the Corvette collector wanting a very special ZR1, C&N Motor Cars has an original 1971 Corvette ZR-1 available as well. There were only 8 ZR-1s produced in 1971 and the ZR-1 package contains the special purpose LT1 350/330 hp aluminum small block V8 with the heavy-duty M22 Muncie 4-speed manual transmission, heavy-duty brakes, heavy-duty suspension, transistor ignition, special aluminum radiator, and more!
The '71 Corvette ZR-1 is offered in Nevada Silver with Standard Black Interior and there are only 35K original miles on the odometer. Offered for $275,000. Click here for more photos and additional information.

Source:
C&N Motor Cars