In addition to the Chevrolet Corvette going Mid-Engine in 2020, another sports car with a historic lineage finally made its return to showrooms in the form of the 2020 Toyota Supra. Although facing some criticism as a rebadged BMW Z4, the Supra is still an exciting car and one that does compete with the new Mid-Engine Corvette with winning over the younger demographics in the marketplace. Early demand for the Supra helped to push the MSRP from $49,990 up to the $60,000 mark which is where the C8 Corvette base model begins.
We found this video over at Autoevolution between a Toyota Supra and the 2020 Corvette. Where usually the Corvette is at a horsepower deficit in some of the previous match-ups we've shared, this time the Stingray is on top with its stock 495 horsepower while the Supra offers a 3.0L turbocharged straight-six that delivers 335 hp. Although that horsepower rating will rise to 382 for 2021 model year, that doesn't help this Toyota as it faces off again the Stingray in several dig races captured on the street.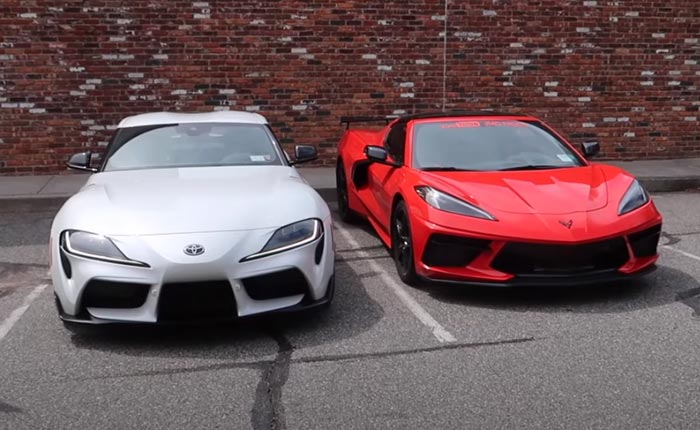 There's a bit of talking at the beginning of the video so if you want to go straight to the action, you'll want to skip ahead to 6:44:
From JMC Rides via YouTube:
2020 CORVETTE VS 2020 SUPRA (Downpipe & Tune) RACE!

Source:
JMC Rides / YouTube

Related:
[VIDEO] A Corvette and Supra Go Drifting in the Snow in Russia
[VIDEO] Hennessey Races a Stock 2020 Corvette vs a 707 HP Dodge Charger Hellcat
[VIDEO] Tire-Burning C6 Corvette Drifts Its Way Around Italy's Modena Racetrack