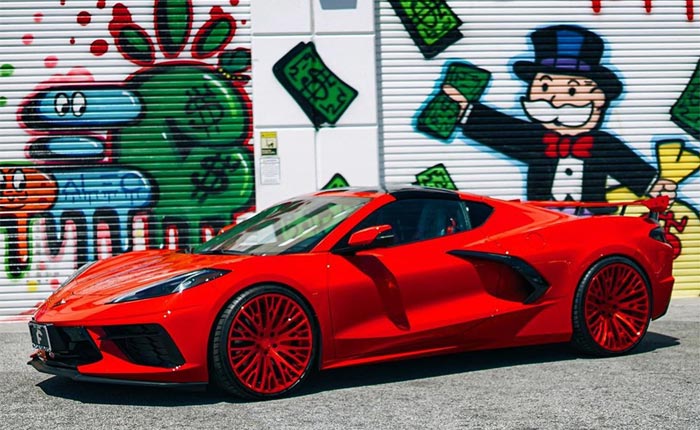 Anyone here looking for some ideas on how to spend your coronavirus stimulus check? I'm actually in the market for a new radiator from my 1966 Corvette, but pics of radiators don't do much for inspiration, so how about a new set of custom Forgiato wheels for your 2020 Corvette Stingray!
We came across this interesting pic today on Instagram and this one got my attention as I love to see Corvettes parked in front of interesting murals. And is there anything more inspiring than seeing the Monopoly Man making it rain dollar bills over this Torch Red Stingray?
We tracked down the wheels on Forgiato.com and found that they are called Cravatta-ECL. The wheels are offered in multiple colors and sizes ranging from 19 to 26 inches. No sizes were listed on the post and so we are betting these might be 21s as we really like how the wheels completely fill up the wells with hardly any gaps whatsoever.
From Forgiato via Instagram:

Source:
Forgiato / Instagram

Related:
[PICS] Forgiato Widebody Corvette in a Gold Wrapper Brings It's Own Bling to the Party
[VIDEO] C3 Corvette Whip Rolling on 30-Inch Forgiatos
[PICS] 'Blue Flame' Corvette Z06 Looks Regal with Blue Forgiato Wheels