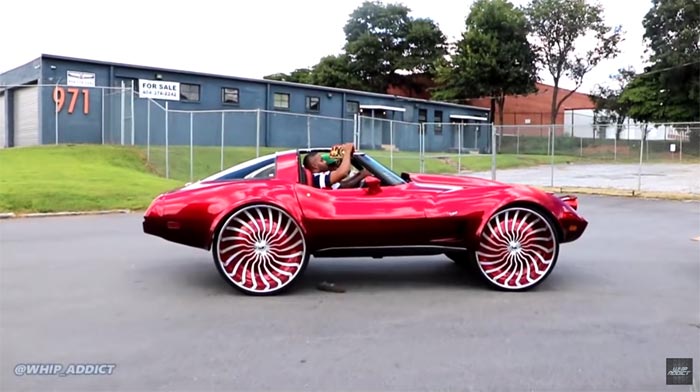 Every once in a while, a customized Corvette comes along and that makes people sit up and take notice. This is one of those Corvettes…
We've always had a thing for lifted Vettes and this one is pretty well done!
To our eye, this is a 1978 model based on the front emblem and the rear glass, but if they want to call it a 1971 in the description, I'm good with that.
This C3 Corvette features a Kandy Apple Red exterior with a custom red alligator and suede interior. A huge stereo system and speakers fully occupy the rear cargo area and the car is pimped out with huge 30″ Magro Forgiatos that were painted to match.

FYI, there's some salty language in the video so take that as your NSFW warning. However, I believe there will be even more swearing from Corvette enthusiasts who might not like this custom Corvette as much as we do.
#FLA2ATLCarShow: @fatboithelegend brought one of the sickest custom whips up from Orlando to tha A. Finally got to catch it on the move and I gotta say I love it! Huge 30″ Magro #Forgiato's, brushed with Kandy red paint added to match the Kandy on the 71′ Stingray Vette! It is just awesome! The interior is done in all red suede and alligator material with a fully fiberglass dash and doors! @Carshow_Customs really showed out on this one!

Source:
WhipAddict / YouTube

Related:
Found on Facebook: Lifted C3 Corvette 4×4
Corvettes at Carlisle is Looking for 4×4 Corvettes
Corvettes on Craigslist: Custom 1980 Corvette 4×4