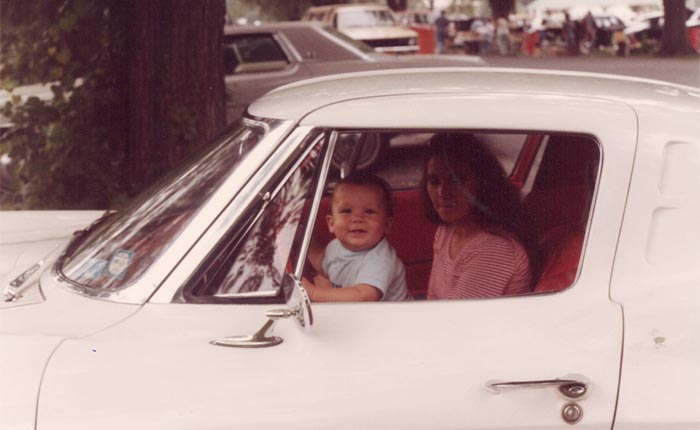 Today is Throwback Thursday where we like to feature vintage photos of Corvettes. Today's look at yesteryear is a snapshot featuring a mom and her young son in a 1963 Corvette Split-Window Coupe. The photo comes via Petrolicious.com from a feature on how this '63 Sting Ray was able to stay with the same family all these years.
The stories of second-generation owners who grew up with Corvettes are some of our favorites to share, as that was our experience with growing up in a 1966 Corvette. Check out the background of this coupe and you see the rear storage area has pillows that surround the rear and sides…perfect to keep a small child occupied while driving along in a split-window coupe! But that's what it was like growing up in the sixties and why vintage Corvette photos are so fun to share.
The Petrolicious article details the story of James Reisigl and the 1963 Corvette Stingray Split Window Coupe that was purchased by his dad before he was born. Many of the classic Corvette stories end when the car is sold following a devastating event in the owner's lives, but unlike most, this classic split-window does find its way back into the family garage.
Today, the car features 82,000 miles on the odometer and several marks from a lifetime of being driven. We encourage you to check out some of the fantastic photography as James shares his car with us. Like the story itself, anytime you can mix in some vintage photos, it creates a connection and helps transport the reader from the present to the past.

Source:
Petrolicious.com

Related:
[PICS] Throwback Thursday: Two Corvette Concepts at the GM Technical Center [PICS] Throwback Thursday: Zora Tests the Corvette's V8 Engine in a 1954 Mule [VIDEO] Throwback Thursday: Joie Chitwood Thrill Show Entertains GM Employees