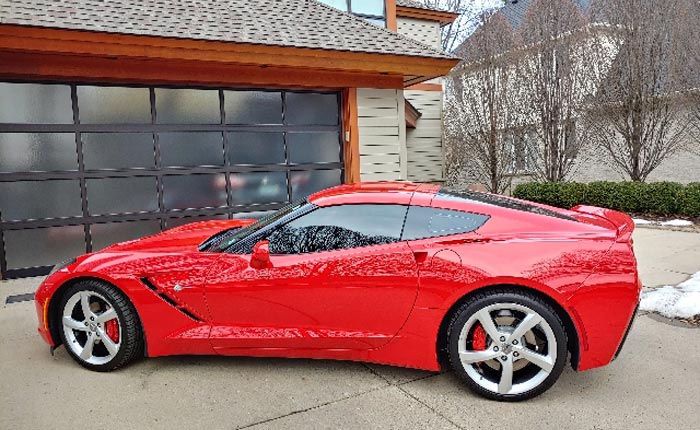 Corvette Racing's program manager Doug Fehan is selling his 2018 Corvette Stingray to make way for his 2020 mid-engine Coupe and he has put together a nice package around the sale of the car. If you're looking for a gently used C7 Corvette, this could be your chance to own a small piece of Corvette Racing history!
This low-mileage, pristine Corvette has been coddled and preened since its arrival at Mike Savoie Chevrolet on December 21st of 2017. Had Doug been a little more patient and waited until January 22nd of 2018, he would have had one of the very first 2019 models. But, when it comes to Corvettes, Doug can be a very impatient guy and he wanted it NOW!!!

On the plus side, there were very few 2018's manufactured. And Betty at the NCM has verified this is the only Stingray in existence to be built in this configuration. See the list below for some of the basics and some of the add-ons. Doug has also included a photo of the window sticker for a more detailed description as well as displaying the original MSRP of $66,870!
2018 CORVETTE STINGRAY IN TORCH RED WITH KALAHARI INTERIOR

LT1 6.2L
8-SPEED PADDLE SHIFT AUTO TRANS
2LT PACKAGE
REMOTE VEHICLE START
TORQUE-DIRECTIONAL ALUMINUM WHEELS
BODY COLOR EXTERIOR VENTS
Z51 STYLE SPOILER
CUSTOM RED BRAKE CALIPERS
FRONT AND REAR SPLASH GUARDS
BATTERY PROTECTION PACKAGE
REAR FASCIA PROTECTION
FULL WARRANTY STILL IN EFFECT

ADD-ON FEATURES
XPEL CLEAR FRONT FASCIA PROTECTION FILM
3-M SIDE AND BACK GLASS TINT FILM, FULL LEGAL LIMIT
RADENSO PRO M, HARD WIRED RADAR DETECTION W/GPS MEMORY
INDOOR, SOFT-LINED CAR COVER
CUSTOM-FITTED WEATHER TECH FLOOR PROTECTION
TOTAL MILEAGE: 6,323
TOTAL PRICE: $46,000

Included in this package:
Doug will fly you to Detroit, personally pick you up at Detroit Metro Airport, have lunch/dinner with you (on him) and provide an Official Certificate of Authenticity and then wave goodbye to both you and his beloved Corvette. What more could you ask for!!!
UPDATE
I have been told that Doug has sold his 2018 Corvette! Thanks for your interest and congratulations to the new owner!

Source:
Photos by Doug Fehan
Related:
[VIDEO] Behind the Scenes at COTA with Doug Fehan and the Corvette C8.R
[VIDEO] Corvette Racing's Doug Fehan at the 2020 Rolex 24 Corvette Corral
[AUDIO] Doug Fehan Featured in Podcast with IMSA Radio