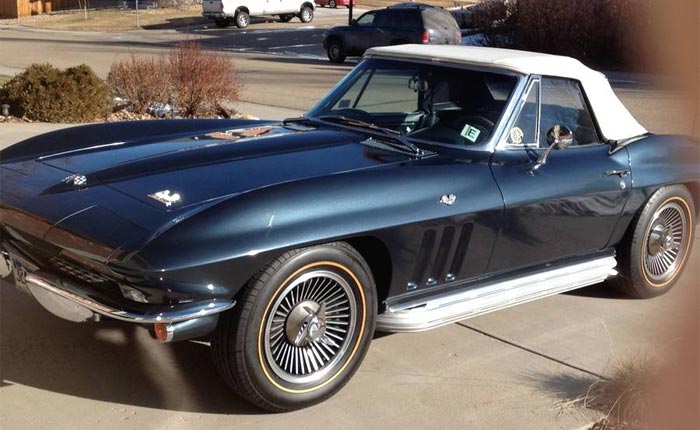 With breaking news about the first customer 2020 Corvettes rolling off the assembly line at Bowling Green yesterday, it's appropriate that another early production model, albeit from a different era, is currently up for sale on craigslist in the Denver, Colorado area.
This 1966 convertible is described as an early "pilot car" from that model year, and with its extremely low VIN of #006, it's "a definite piece of history," according to the seller.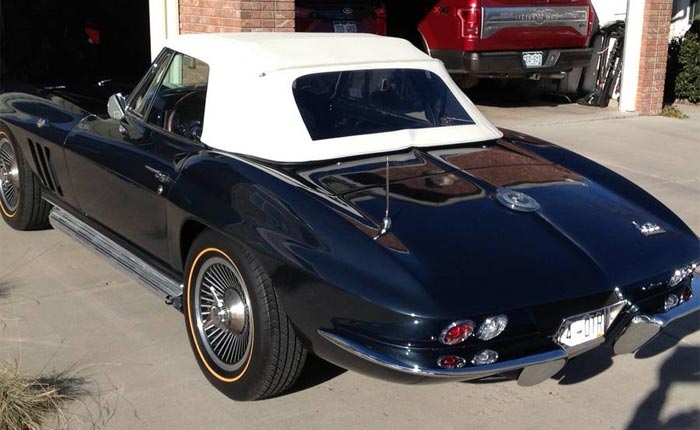 Pilot cars usually went to GM Marketing, GM Engineering, or GM executives, the ad says, and this one started its build in early June (with a body build date of July 9, 1965), as opposed to actual Corvette production that normally begins in August. No word in the ad about documentation, but wouldn't it be interesting to know what GM employee drove this car 55 years ago?
The car is an original Laguna Blue model with a white ragtop and is said to have undergone only one repaint since new.

A numbers-matching 327/350 horsepower car, it's nicely equipped with many options, including side mount exhaust system, telescopic steering wheel, teakwood steering wheel, tinted windows, power windows, power brakes, two tops, Kelsey Hayes knockoff wheels, AM/FM radio, and leather interior.
It's hard to tell for sure from the photos, but the paint, body, and interior appear to be in better than average condition, with seemingly no rust problems.

This "incredible rare car" can be yours for the asking price of $78,900 and is "a great chance to own something special," the seller concludes.
It's hard to argue with a mid-year Corvette, and this one appears to be a good example from the fourth year of that run.

Source:
denver.craigslist.org

Related:
Corvettes for Sale: 2008 'Wil Cooksey' Corvette Z06 427 Limited Edition No. 006
Dive Into the Production Details of the 43 Pilot Cars built for the 1983 Corvette
Dive Into the Production Details of the 43 Pilot Cars built for the 1983 Corvette