I think its safe for us cross off the Indianapolis 500 as a potential location for the reveal for the 2020 Mid-Engine Corvette. On Monday afternoon, Chevrolet and the Indianapolis Motor Speedway announced the 2019 Corvette Grand Sport will be the official pace car of the 2019 Indianapolis 500.
It's a record 16th time for the Corvette to lead "The Greatest Spectacle in Racing" since it first led the pack in 1978 and the third consecutive race to feature the C7 Corvette.

"Chevrolet is honored to lead the way for the 500 once again," said Steve Majoros, director of Chevrolet passenger car and crossover marketing. "The Grand Sport is a particularly excellent choice as its wide body and aerodynamic features are steeped in racing heritage."
A total of 33 2019 Corvette Stingrays will also see duty as the chosen Festival Cars for the month of May. Race dignitaries and local business leaders use the Festival cars to promote the race and each Stingray will carry a designated driver during the Festival Parade on May 25th in Downtown Indianapolis. It's the first time since 2007 that matching Corvettes will serve as the official Pace Car and the Festival Cars.

"We continue to be grateful for our long-running partnership with Chevrolet," Indianapolis Motor Speedway President J. Douglas Boles said. "It's such a strong bond that has proven integral to the success of our events. The 2019 Corvette Grand Sport is a world-class machine that exudes speed, performance and excitement, a perfect fit to lead the 500 field. Personally, there is nothing quite like driving an Indianapolis 500 Chevrolet Corvette around Indiana in May, and I know our fans also will enjoy seeing the Corvette Stingray festival cars around town throughout the Month of May."

The 2019 Corvette Grand Sport Pace Car is painted in Long Beach Red Metallic and will feature full-length Blade Silver racing stripes and carbon flash painted carbon fiber aerodynamics. Mechanics include the LT1 460-hp V8 paired with the 8-speed automatic, Brembo carbon ceramic brakes and the performance suspension with Magnetic Selective Ride Control. A unique Indy 500 Pace Car decal package will complete the look.
The annual race is moving to NBC for the first time with the pre-race show starting at 11:00 am EDT on May 26th. The official pace car driver will be announced at a later date.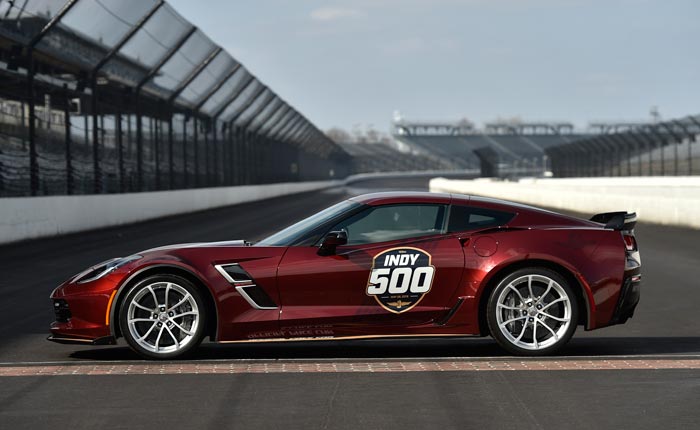 Source:
Chevrolet

Related:
Indiana Pacers All-Star Victor Oladipo to Drive the 2019 Corvette ZR1 Indy 500 Pace Car
[PICS] The 2019 Corvette ZR1 is the Official Pace Car of the 102nd Indianapolis 500
[GALLERY] The 2017 Corvette Grand Sport Paces the 101st Indianapolis 500