We have a couple more sighting of the C8 Mid-Engine Corvette prototypes to share as they were testing in North Carolina over the weekend.
What's very interesting is that these are the first prototype sightings outside of Detroit and the Nurburgring where the C8s are not wearing the heavy black cladding and instead are going with just the camo wrap.
The first photo has a fun story behind it. Corvette Forum member "bbc=540" says he saw a group of prototypes pass by his house on Friday morning (3/22) and jumped in his car to find them with no luck. Later in the day, his work pays off as he was able to snag these photos just minutes from his house.
Hey Guys – for what it's worth, I was working at my home office today and a group of 6 or 7 camoed C8's went by my house @ 10am Friday 3/22. I live in the foothills of NC near some great curves that's also close to the NC/VA state line. Seemed to be followed by a white SUV support vehicle. I immediately jumped in the car and began the pursuit but with so many different paths to take… I was not able to find them. I have spent the last hour and a half looking but nothing. Such an exhilarating moment but without the payoff! Anyone else have recent sightings near me?

Lightening [sic] does strike twice in the same place. Redemption for me as I just got a couple of in motion pics just a few minutes from my house. Apparently they are still in the area. I live just north of the Winston Salem / Greensboro area of NC. Not able to find them afterwards but not giving up. Will post more pics if they turn out.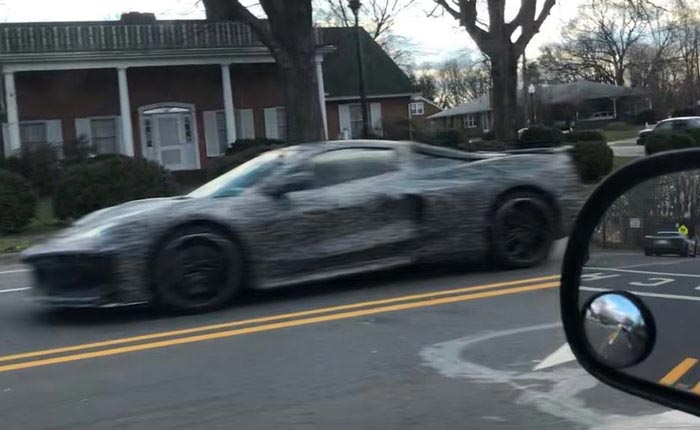 On Sunday morning we got one more pic of the cars testing in North Carolina as this lone C8 prototype was captured as it sat on the side of the road. The location of this sighting was reported as Pilot Mountain, North Carolina.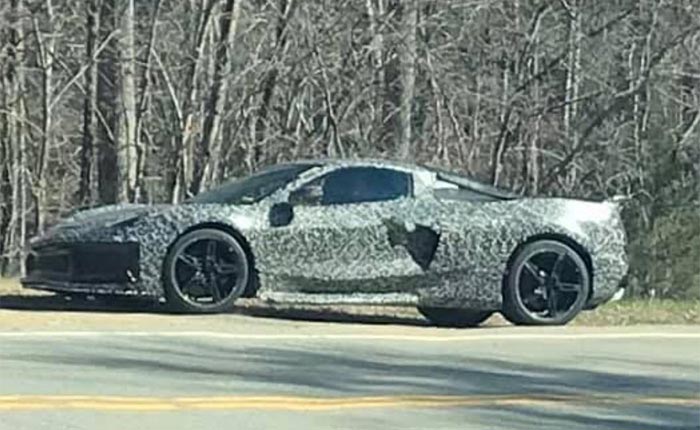 Posted by "Medic856" on the Corvette Forum:

Any idea why they would be testing way out here? This was sent by a friend. Spotted in Pilot Mountain NC around 0900 this morning.
"Medic856" has been a member of the forum since 2006 but just made his first posts with this photo and the subsequent back and forth with another member about his lack of posts over a 13 year time period. That and the fact that the car is on the side of the road (staged?) have us wondering about the circumstances in which this photo was shared, but for now, we'll take his word for it…
It was rumored that the C8s were testing at Virginia International Raceway last week and now with these cars spotted in North Carolina within a 100 miles from VIR makes us wonder if they are spending time on the track and then heading out on the streets or if they are two different sets of prototypes testing.

Source:
corvetteforum.com here and here
Related:
[SPIED] Two Quick Videos of a C8 Mid-Engine Corvette in the Detroit Area
[SPIED] New Detroit Spy Photos of the C8 Corvette Reveal New Details
[SPIED] New C8 Mid-Engine Interior Spy Photo Reveals 'Stingray' Name