Spring Mountain Motor Resort is a Corvette "track rat's" paradise and anyone that has participated in the Corvette Owner's School there has experienced that first hand.
I've been a school participant three times since 2014 and also joined National Corvette Salesman, Mike Furman, to chronicle one of his customer appreciation schools last year. You can read about that experience here!
Every time I've been to Spring Mountain, I've seen something new that has been added to the resort, and their current expansion projects are pedal to the metal. Keep in mind that the current owners purchased the track in 2004. At the time, Spring Mountain was a 193-acre facility that included a 2.2-mile road course, two tent structures, and some porta potties.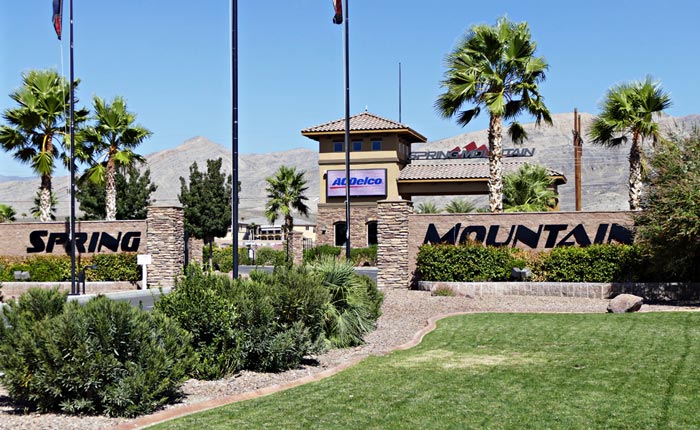 The Corvette Advanced Driving School included a fleet of eight Corvettes with an annual attendance of 150 students. The driving school quickly grew to a fleet of 21 Corvettes with over 1,500 students in 2006 and has continued to grow ever since, now averaging approximately 400 students every month!
A new affiliation was announced in 2008 that greatly increased the profile of the Corvette Driving School. Ron Fellows Performance Driving School, an extension of the existing Corvette Advanced School, became GM's official ZR1 training program that year and was included with every retail C6 ZR1 purchase. Of course, Spring Mountain also provides many additional instructional offerings in addition to the Corvette Owner's Schools including Level 1, Level 2, and private track instruction opportunities.

At the time of my most recent Spring Mountain experience, amenities include a luxury clubhouse complete with pool, jacuzzi, fitness center, lockers and showers, massage therapy, business center, observation towers and lounge, premium loft-style condominiums, private garages, a racquetball court, a 4.5-acre freshwater lake offering swimming, paddleboards, pedal boats, kayaks, Hydroflights, and shady cabanas, and a third track area that took the 4-mile track configuration to just over 6 miles. For most, that would be more than enough for an adrenaline-filled two or three-day driving school experience. But track junkies always need more!

I recently had an opportunity to spend some time with Marketing Director, Todd Crutcher, to learn about coming expansion projects that will soon make Spring Mountain second to none as a world-class track facility. The first thing we talked about was the track. Spring Mountain's six-plus mile track is already the longest road course track in North America, but if you want to be a world-class motorsports resort, you need more track…and that means you need more land. When Spring Mountain closes on a 620-acre parcel of land north and east of the facility, Spring Mountain's total land area will increase to 950 acres. And with apologies to The Nürburgring's 15.2-mile track configuration, by 2020 Spring Mountain's fourth track expansion will provide a track configuration topping 16 miles, becoming the longest road course in the world!

Another exciting development that is coming soon is a five-story, 125-room hotel, casino, Starbucks, and two additional restaurants near Spring Mountain's front entrance. Majestic Realty Company, the largest privately-owned industrial developer in the United States, purchased seven acres for these and other retail establishments and should break ground on the project this October. Plans are also in the works for fuel services, a movie theater, and a karting track. There is literally going to be something for everyone at Spring Mountain Motor Resort and Country Club.

And if you want to live the dream all year long, there are still a few lots for sale in Spring Mountain Estates, a private residential community right in the middle of all of the action. Over 60% of the 80 home sites have already been sold, so if you want to build your dream home at Spring Mountain, you'd better act fast. Street paving within the complex was recently completed and the $13.7M water and sewer treatment plant is finished and will get the green light to go online any day now.
Keep in mind that if you want to build a home there, you need to become a member of Club Spring Mountain, which affords you exclusive track use times as well. Membership options can be found at www.clubspringmountain.com. It might just be the right time for you to purchase your own little corner of paradise at Spring Mountain!

Related:
[VIDEO] Ron Fellows Takes a Hot Lap at Spring Mountain in the 2019 Corvette ZR1
[VIDEO] Mobil 1 The Grid Presents Training Day at the Ron Fellows Performance Driving School
[PICS] Mike Furman's 2nd Annual Corvette Driving Experience at Spring Mountain