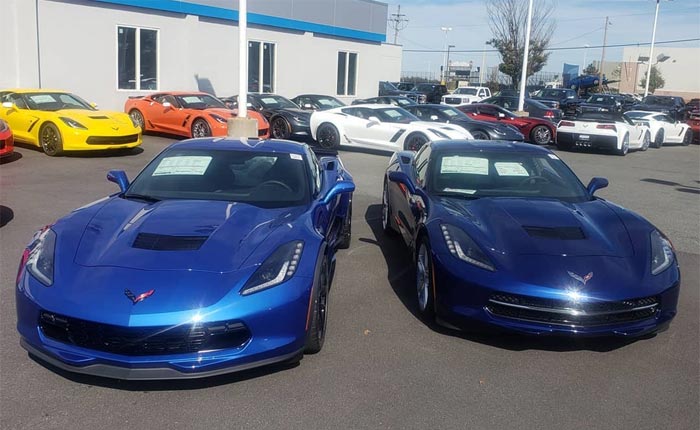 Our friends at Kerbeck Corvette in Atlantic City are asking if you a feeling a little blue today? No, they aren't asking about your "feels", they want to show off the new Elkhart Lake Blue Metallic that went into production on the first of October. The World's Largest Corvette dealer has the new, brighter Elkhart Lake Blue now in stock!
To show the differences between the new blue and the now-retired Admiral Blue, here they are parked side by side. Elkhart Lake Blue is on the left and Admiral Blue is shown on the right.

As predicted, the bright sun really brings out the metallic flakes in the Elkhart Lake Blue. It's a shade that lends itself well to C7 as the top photo shows the variations on the different panels as it basks in the sunlight.
Like the darker blue better? Admiral Blue ended production this summer after being resurrected in 2017 to coincide with the introduction of the C7 Grand Sport. Kerbeck still has some available but suggests if you want an Admiral Blue Corvette, get them now as they are almost sold out.

Interested in ordering the new Shadow Gray Corvette? Call Dave Salvatore at 877-537-2325 or click here to view Kerbeck's Corvette inventory of Stingrays, Grand Sports, Z06s and ZR1s. Visit Kerbeck Corvette on the web at www.kerbeck.com.

Source:
Kerbeck Corvette / Facebook

Related:
[PICS] Shadow Gray vs Watkins Glen Gray at Kerbeck!
[PICS] First Look at the New Elkhart Lake Blue on a 2019 Corvette
Elkhart Lake Blue Starts Production Today