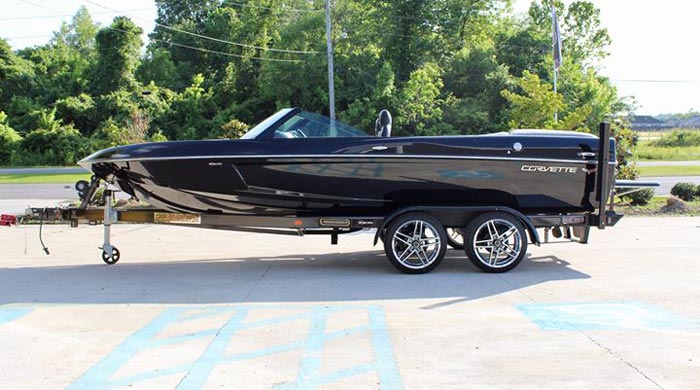 Our beloved sportscar traces its name back to a small maneuverable warship known as the Corvette. Thanks to Myron Scott the term Corvette has become synonymous with cars more so that ships. It's with Corvette's origin in mind that we bring you this Z06—inspired boat we found on Facebook.
Back in 2008 Malibu Boats built an estimated 40 Corvette-themed boats. The majority we painted red, but only 8, like this one, were painted black. You could choose between Coupe or Z06 livery. This Z06 boat has been largely in storage since new and shows just 13 hours on it.
The Z06 boat is powered by the same LS7 that powered the C6 Corvettes. It puts out the same 505hp and can propel the boat to 65mph on the water. There's even a LED-clad Lexan window which allows you to keep an eye on that powerplant.

The Z06 theme continues throughout the vessel. Looking around you'll see Corvette emblems, a C6 style dash and steering wheel, Z06 seats, and a waterfall between the rear seats. The 2-tone interior styling mimics the 2-tone interiors found on sixth generation Corvettes. Even the stern features 4 chrome exhaust tips just like the road-going Corvettes. The trailer wears Z06 wheels to complete the look.
High-end options include a Malibu-Rockford Fosgate 8-speaker stereo, keyless start, in-dash LCD, heated seats, and power windows.

The boat measures in at 20′ 6″ long and 93.5″ wide. The 3,000lb machine will carry up to 8 people + 37 gallons of fuel. Given the fuel tank's size, we reckon you could call this a big tank Corvette in honor of the rare C2 and C3 equipped Corvettes which sported 36-gallon fuel tanks for endurance racing.
When new this boat wore a $124,000 price tag. Now, just 10 years and 13 user hours later, that price tag now reads $54,995.
The boat was shared on the "Corvette Parts for Sale or Trade" page which is a closed group, so you have to apply for admittance, but the owner gave us his contact info so if you are interested in learning more, contact Brett at 504-400-9572 or via email at [email protected].

Source:
Corvette Parts for Sale or Trade / Facebook (closed group)

Related:
Corvette Returns to Water with Malibu Boats
Found on Facebook: Lifted C3 Corvette 4×4
Found on Facebook: 1984 Corvette Rat Rod