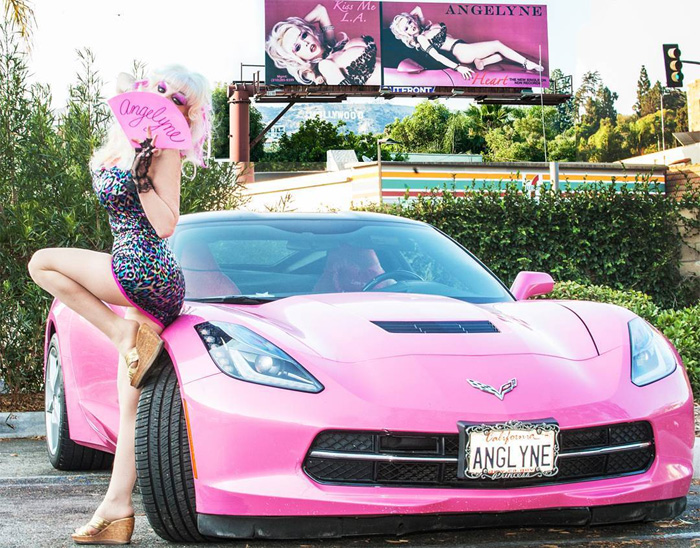 Long before there was a Paris Hilton or a Kim Kardashian, there was Angelyne.
Thanks to a mysterious LA billboard featuring just her name and a suggestive photo back in 1984, Angelyne quickly turned into one of the original celebrities who became famous for being famous. She's well known in our circles for driving pink Corvettes.
A quick search of the Internet revealed that Angelyne has been driving pink Corvettes in generations 3, 4, 5, 6, and 7. We're sure there will even be a pink mid-engine Corvette one day.
In fact, her love of pink was the catalyst for her campaign slogan when she ran for governor of California in 2003 – "We've had Gray, we've had Brown, now it's time for some blond and pink." She wound up 28th in that race with 2,536 votes – not too bad considering there were 135 candidates in all.
She's remained a mystery over the years for the most part, until an expose in The Hollywood Reporter in August revealed Angelyne to actually be Renee Goldberg, who reinvented herself as a blonde bombshell after being born redheaded to survivors of the Holocaust who settled in the Fairfax area in 1959.
Photo Credit:
Thomas Hawk

That story roused the interest of actress Emmy Rossum and her husband, Mr. Robot creator Sam Esmail, who decided it was time to tell Angelyne's life story through a limited run series.
"I have always been fascinated by the enigma that is Angelyne," Rossum told The Hollywood Reporter. "At a young age, I can vividly remember staring up at her on a billboard above me and wondering, 'Who is that woman?' Gary Baum's investigative journalism has finally unearthed the true, complex identity of the infamous woman who has fascinated Los Angeles for over 30 years. From the moment I read Gary's recent piece, I knew I had to tell this story. It's a poignant and bizarre tale about the hunger for fame, the sexualization of women and the erasing of past traumas."
Despite her advancing age, Angelyne continues to entrance her following. In fact, she opened an Instagram account in March with a vintage photo and has offered the world her pink-tinged outlook on life ever since. Then in September, a new billboard even went up in LA.
No word on the release date of the new series, but let's hope there are plenty of close-ups of her pink Corvettes.

Source:
wmagazine.com

Related:
[ACCIDENT] Something Crashed into the Back of Angelyne's Pink Corvette Stingray
Corvettes on eBay: Angelyne's 2008 Pink Corvette
L.A.'s Angelyne the 'Billboard Queen' and Her Pink C7 Corvette Stingray