If enthusiast collector Rick Hendrick really wants to stand out in a crowd with his Corvettes, maybe he should try to be the high bidder on this custom 2008 pink Corvette owned by Angelyne, the original "famous for being famous" Hollywood starlet.
If you've ever seen Angelyne, you'd never forget her. She worked her way to "stardom" in the 1980s when she became the subject of a series of huge billboards in Hollywood showing her considerable assets, her management phone number, and no further explanation.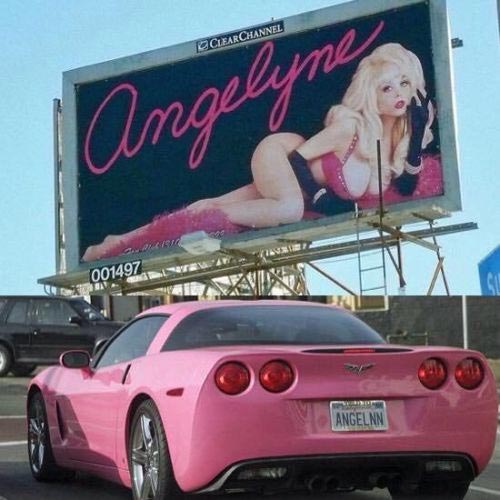 The strategy worked for the buxom young lady, who has been associated with pink Corvettes for years. She and her C3 were featured prominently in a B movie from 1988 named "Earth Girls Are Easy."
She bought herself a C7 Corvette once they became available and she promptly had it painted pink. Her old Corvette is a 2008 coupe in, of course, pink, and she's got the car up for sale on eBay, with a starting bid of $11,111.
Angelyne loves to be seen in Hollywood, so it's no surprise that the car has rolled up a whopping 190,000 miles on the odometer. But like Angelyne herself, the car appears to be in great shape for its age. It even has new tires and a radiator and still runs great, according to the eBay description.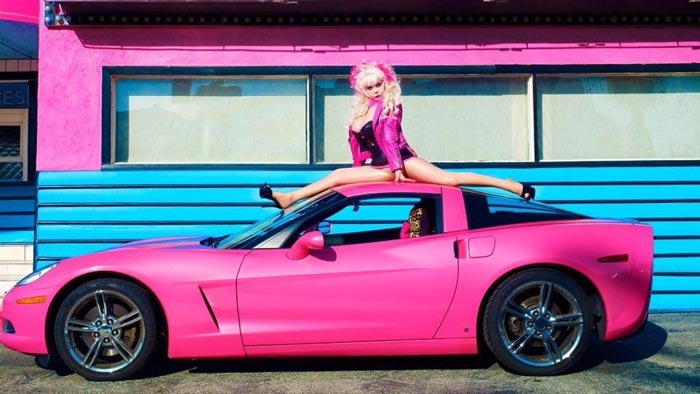 We love this quote from Angelyne, who says: "I'm like heroin. I have to dole myself out carefully. I don't want people to overload."
Once known as the most famous woman in Hollywood, she and her Corvette still get noticed in Tinseltown, even prompting tweets by Kim Kardashian and James Franco, whose film "Masterpiece" featured the car.
By the way, Angelyne says she will autograph the Corvette for the new owner, if he or she is so inclined.

Source:
ebay.com

Related:
L.A.'s Angelyne the 'Billboard Queen' and Her Pink C7 Corvette Stingray
[VIDEO] Los Angeles Socialite Angelyne Spotted in Her Pink Corvette
Real Life Barbie with her Pink Corvette