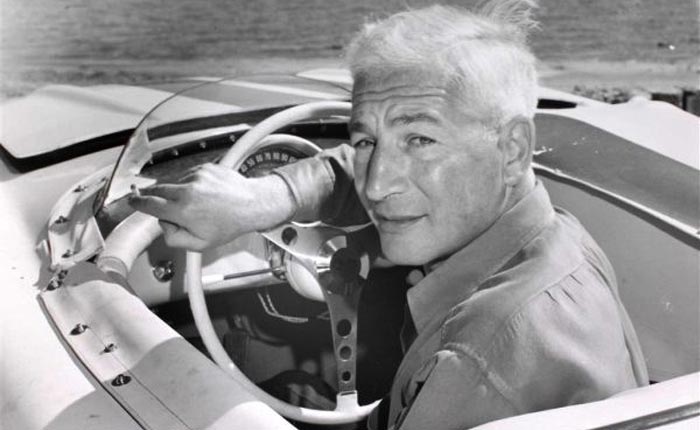 Where would Corvette be today without the efforts of its legendary chief engineer / cheerleader Zora Arkus-Duntov?
Believe it or not, if Porsche officials had had their way in the mid-1950s, we might have a definitive answer to that speculation.
Hagerty.com – retelling a story told by Jerry Burton in his book, Zora Arkus-Duntov, the Legend Behind Corvette – relays how Zora came to be highly regarded by Porsche.
He first took two class wins at Le Mans while driving for Porsche in the mid-1950s (a time when racing was not a part of GM's business plan), then helped solve a significant engineering problem on the Porsche 356 while working for Chevrolet.
All of that success put Zora in the good graces of Porsche leaders, who unofficially offered him a job and even a new 356 in appreciation, both of which he politely declined.

The main thing Zora wanted, he already had, and that was the visibility and respect of the entire Porsche organization. He likely felt their high opinion would make the Corvette a more viable option to sports car enthusiasts around the world.
In case you're wondering what GM thought about Zora helping Porsche, Burton writes that Chevrolet chief engineer Ed Cole supported the idea because he thought his company could learn about air-cooled engines and rear swing axles from its German competitors. At the time, you see, years before the arrival of the Corvair in 1960s, GM was already experimenting with rear-engine, air-cooled cars.
Zora's racing actually led to a stabilizer bar design on the Porsche 356 that he said was able to slice 30 seconds off its lap time at Nurburgring. Over the years, though he became a GM legend, Zora stayed in touch with Porsche officials and some believe that had the right position been offered, he might have actually left GM.
"There was a time that he wanted to become chief technician for Porsche," said Antole Lapine, a friend and design staff contemporary of Duntov's at GM who eventually became design director at Porsche. "Ferry (Porsche) would have loved to have the guy on his team – lots of exchange."
Fortunately for Corvette, that didn't happen.

By the way, Zora drove a Porsche 550 Spyder at the 24 Hours of Le Mans in 1955, finising first in the S1.1 class and 13th overall, an accomplishment greatly scarred by the greatest disaster in motorsports history when a Mercedes left the track and roared into the stands, killing over 80 people. After that, Zora stuck strictly with driving Chevrolets on the track.
Zora fans will want to to check out the original article from Jerry Burton at Hagerty.com.

Source:
Hagerty.com

Related:
[PIC] Throwback Thursday: Tony DeLorenzo and the Glory Days of Corvette Racing
[PIC] Throwback Thursday: Testing a 1963 Corvette Z06 Prototype at Sebring
[PIC] Throwback Thursday: Zora Duntov and the EX87 Corvette Mule Hit 163 MPH