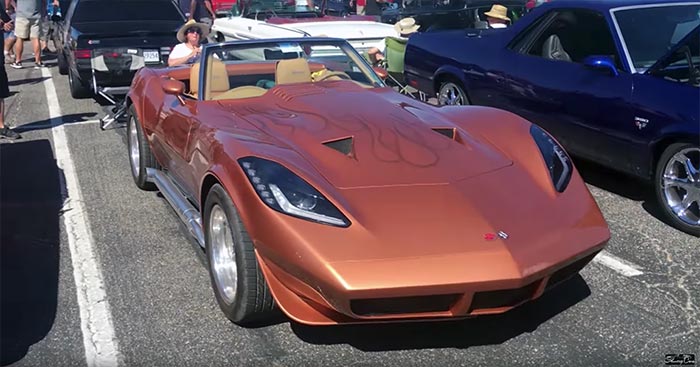 This Corvette reminds me of the old Johnny Cash song, "One Piece at a Time," where he assembles a car from pieces he has brought home working at the assembly plant over a period of years.
Johnny Burke's car started out life as a 1973 model, but today you could call it anything from a 1963 to a 2015 since he's borrowed several touches from other years that have resulted in one cool C3 restomod.
The most noticeable change, obviously, is to the front end, which now has C7 headlights from a 2015 Stingray! We've seen cars use C7 tail lights on other generation Corvettes, but never C7 headlights, so kudos to Mr. Burke for his creativity!
Then there is the color, Copper Metallic, which was used for one model year only in 1994 because of quality control issues at the assembly plant – with just 114 cars dressed in that shade. Now you can make that 115, thanks to this one-of-a-kind '73.

Meanwhile, the drivetrain has been upgraded to include a ZZ5 crate 383 Stroker under the hood, coupled to a six-speed transmission from a '98 Corvette.
"We totally customized the interior to be similar to what a C2 Corvette was but not quite," the owner says in an interview with The Shooting Cars.com. "We put all the gauges in the center."
Burke says he did the restomod because "I wanted a car I could drive, have fun in, was loud and bright, and that's what I've got."
The attention the car garners is "really nice," he says with a laugh, "and I enjoy that except for the police officers."
Burke built it to use it on the road, not as a trailer queen, and driving it, he says, "is really good."
With the 4:11 rear gears "it will really jump out from under you if you're not careful," he says.

He loves the six-speed transmission, saying "I could cruise down the freeway at about 2,000 RPM doing 70 mph, so that makes it really good."
Happy with the car overall, the owner says he's been done with it about eight months and has already put 4,000 miles on the odometer, with more on the way.
"Probably our next trip in it will be up the California coast," he says. "We're right there in Phoenix, so it's easy to jump over to California. We'll drive Highway 1 – that's something I've always wanted to do for quite a while. Being retired, it gives me the opportunity to do that stuff."
In short, "it's just a hell of a lot of fun to drive," he says. "It's a lot of fun!"
Even if he did have to build it one piece at a time.

Source:
carscoops.com

Related:
[PICS] C6 Corvette Owner Hacks His Car By Adding C7 Corvette Headlights
[PICS] C5/C7 Corvette UFO Spotted on Reddit
C5 Corvette Receives a Rear Fascia Transplant from a C7 Corvette Stingray