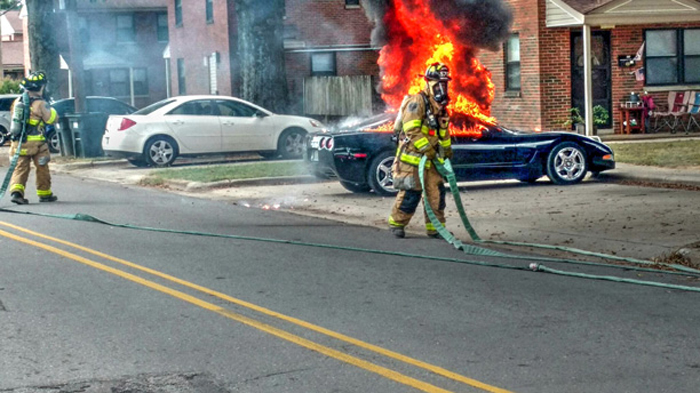 This cool blue C5 Corvette coupe suddenly turned red hot when it erupted into flames in Cullman, Alabama late last month.
Cullman firefighters responded to the fire, which occurred at the intersection of Cleveland Avenue SW and Logan Street SW.
They were able to extinguish the blaze quickly, but based on the photos from the scene, the car still suffered major damage to the interior. It's hard to tell how much damage the heat did to the body, though while the fire was still blazing, the photos show a pretty sharp-looking Corvette, at least from the passenger side.
Fortunately, no one was injured by the fire, but seeing the damage to the Corvette was enough to upset the firefighters, according to Cullman Fire Rescue Division Chief Brian Bradberry.
"As I responded to the call, I could see thick black smoke clear across town from Third Avenue SE and Highway 278 East," Bradberry said. "Our firefighters did a great job tackling this vehicle fire quickly and completely. As a group, we were happy no one was injured, but we sure hated to see the fellow's Corvette destroyed … it was a nice looking Corvette. All the guys hated to see the Corvette burn up."
No word on the cause of the fire.

Source:
cullmantoday.com

Related:
[VIDEO] Classic Corvette Goes Up in Flames in L.A.
[ACCIDENT] Fire Destroys this 1985 Corvette in Michigan
[ACCIDENT] C3 Corvette Catches Fire in Florida