Late last month Chevrolet sent their dealers their allocations for the 2017 Corvette Grand Sport Collector Edition, and as we mentioned at the time, even the largest dealers will receive just a handful of the 850 Collector Editions earmarked for US customers.
The Grand Sport Collector Editions will be a hot commodity and the first cars will be built next month and will continue into February 2017. The Tension Blue interior and Hash Marks are exclusive to the Grand Sport Collector Editions and each of the 1,000 total Collector Edition's built will be numbered with a special vin sequence and it will also be shown on the coolest dash plaque we've seen.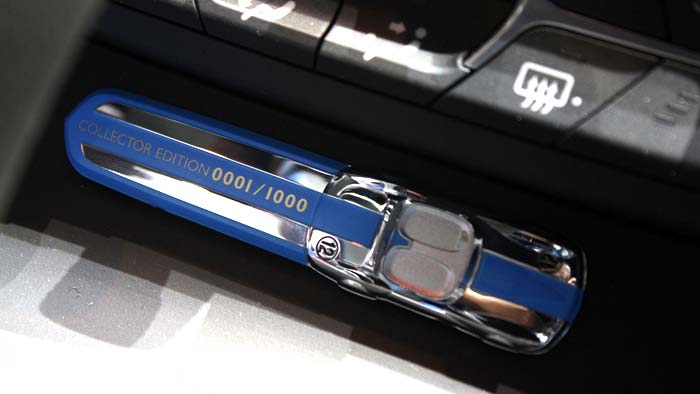 We talked to our friends at Sport Chevrolet in Silver Spring, Maryland and they told us that their allocations for the Grand Sport Collector Editions are open and available for ordering. If your local dealers did not receive an allocation or if they are already sold out, give Robert Kramer a call at 888-880-9972 or visit him on the web at www.SportCorvette.com.
Sport Chevrolet has started receiving shipments of the 2017 Corvette Stingrays and Grand Sports and so any of their remaining 2016 Corvette Stingray and Z06 inventory has been discounted by nearly $6,000 off MSRP.
And if you are wanting a 2017 Corvette Grand Sport, they already have an Admiral Blue Grand Sport Coupe with the Heritage Package featuring the White body stripe and Torch Red hash marks in stock and ready to sell. Read more about that Corvette at Sport Chevrolet!
For more information about ordering a 2017 Corvette Grand Sport Collector Edition or you if you want to pick up a remaining 2016 Corvette Stingray or Z06 which are discounted, call Robert Kramer at 888-880-9972. Sport Chevrolet is family-run dealership serving the greater Baltimore/Washington D.C/Silver Spring MD area for 40 years.

Source:
Sport Chevrolet

Related:
850 of 1,000 Corvette Grand Sport Collector Editions Will Go to US Customers
Only 1,000 Corvette Grand Sport Collector Edition Models Will Be Offered
Official Pricing for 2017 Corvettes is Now Available