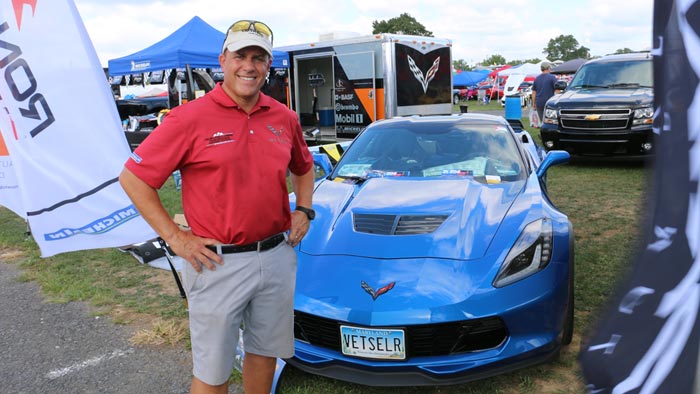 Did you see the VETSELR Corvette Z06 at the 2016 Corvettes at Carlisle Show? National Corvette seller Mike Furman of Criswell Chevrolet and his Laguna Blue Corvette Z06 was at Carlisle and he staked out some prime real estate next to the Spring Mountain/Ron Fellows Driving School.
We met up with Mike on Friday morning and used the opportunity to grab an interview with the Corvette seller. Our interviews with Mike are becomming an annual event since we first met at Carlisle three years ago.
Mike tells us he has been coming to Corvettes at Carlisle since 1978 and he has seen so much change over the years. Mike talks about the new 2017 Corvette Grand Sport and says that "sales are hot as a pistol". He talks about some of the new colors and choices that people can do with a factory order and we try to get some insight from a dealers point of view about how they manage their inventories.
In the conversation, Mike gives us four ways you can receive your Corvette if you decide to work with the National Corvette seller on ordering your next Corvette. And finally, want to know how busy this guy is? Mike gives us a rundown of what his day was like last Wednesday.

If you are interested in a new Corvette Stingray, Z06 or any of the offerings from Callaway, give Mike Furman a call. You can find him at Criswell Corvette in Gaithersburg, MD at 301-212-4420 or via email at [email protected].

Related:
Corvette Delivery Dispatch with National Corvette Seller Mike Furman for Week of Aug 21st
[GALLERY] Corvette Seller Mike Furman Upgrades to a New 2016 Corvette Z06
National Corvette Seller Mike Furman Honored at GM Dealers Meeting