The Barrett Jackson experience was in Palm Beach, Florida a couple weekends back. With some help from Marshall Fancher at Vette-N-Vestments we previewed a few of the 44 available Corvettes. Interestingly 3 of the 4 cars we previewed ended up on the top 11 list.
We already told you about the 2017 Grand Sport VIN 001 which sold for $170,000, but that wasn't the most expensive Corvette to change hands in Palm Beach.
This top 11 list is dominated by first and second generation Corvettes. The are 6 C2's, 4 C1's and the lone C7. Of those 6 midyears, 4 are 1967 big blocks. 7 of the 11 cars were either blue or resale red. Interestingly, 10 of the 11 Corvettes were factory correct restored examples with just 1 lone restomod on the list. This kind of bucks the recent trend of several restomods we've seen in other top 11 lists.
The high Corvette seller of the weekend was a stunning 1967 427/400 4-speed convertible finished in Ermine white with red leather interior. The car is Bloomington Gold Certified and has achieved multiple NCRS Top Flight awards.
Just to make it on the top 11 list you needed to throw down $128,700 including the buyer fees. If you wanted to buy all of the top 11 members, that check would have read $1,675,800. The average price of this top 11 list was $152,345 – or roughly the cost of a nice 3 bedroom house in most parts of the country.
Here are the top 11 Corvettes sales from Barrett Jackson Palm Beach. The prices shown include the 10% buyer's fee.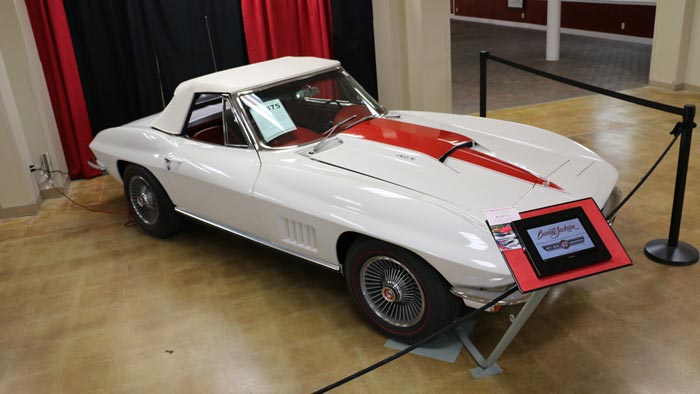 Lot #375 1967 Corvette Convertible – White/Red 427/400 – $181,500
Lot #3003 2017 Corvette Grand Sport VIN 001 – $170,000
Lot #394 1962 Custom Corvette roadster – $164,900
Lot #411 1961 Corvette Restomod – Silver/Black 283/315hp – $159,500
Lot #376 1967 Corvette Roadster – Blue/Blue 427/435hp – $154,000
Lot #437 1967 Corvette Roadster – Blue/White 427/390hp – $154,000
Lot #446 1955 Corvete Roadster – Red/White 265/195hp – $143,000
Lot #462 1962 Corvette Roadster – Red/Black 327/340hp – $143,000
Lot #461 1967 Corvette Coupe – Lynndale Blue/Teal – 427/390hp – $139,700
Lot #418 1963 Corvette Coupe – Red/Red 327/340hp – $137,500
Lot #445 1965 Corvette Coupe – Red/White 396/425hp – $128,700

Overall we think that the prices paid for the top 11 are in line with what we see at most Barrett Jackson auctions. The bright lights, TV cameras, and high volume of bidders tend to drive prices to the high end of the market. We do feel that the $170k for the 2017 GS VIN 001 was a steal. Each of the cars sold were in tip top shape and the prices paid show that there's always 1 or more people lining up to buy well restored, good condition, documented cars. The best cars are always in demand.

Source:
Barrett-Jackson and Vette-N-Vestments

Related:
[GALLERY] Corvette Z06 Hot Laps at Barrett-Jackson Palm Beach
First VIN 001 2017 Corvette Grand Sport Collector's Edition Sells for $170,000
Corvette Auction Preview: 2016 Barrett-Jackson Palm Beach